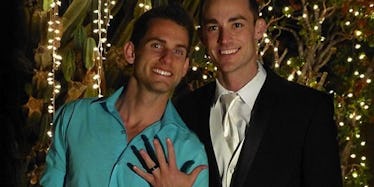 Guy Sends Boyfriend On An Instagram Adventure For Amazing Proposal (Video)
When Ryan Donegan, 26, planned his treasure hunt-style proposal for 29-year-old boyfriend Scott Snider, he planted Instagrams instead of clues.
Of course, it was only fitting: The photogenic pair had met on the social media app.
In a video capturing the snapshot-worthy day, Donegan led the love of his life from a beach afternoon with friends to a relaxed Korean BBQ. As night fell, he directed Snider home.
Wearing a classic black suit and surrounded by Polaroid snaps of their relationship, Donegan finally popped the question. Snider, of course, said "yes."
As the two look forward to their 2016 nuptials, Donegan wants their story to remind people, especially those in states that don't yet allow same-sex marriage, "love is what matters above all else."
Citations: Ryan Donegan Hopes His Instagram-Crafted Engagement To Scott Snider Gives Hope In Areas Without Marriage Equality (Huffington Post)