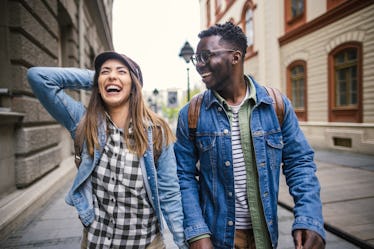 51 Funny Quotes About Dating That'll Make You Feel *So* Seen
"Do you have, like, a first date outfit I could borrow? Like, I don't know, a pair of cargo pants?"
MilosStankovic/E+/Getty Images
Whether you're single as a Pringle or paired up like a Kit Kat, sometimes you just need to giggle about your love life. And while meeting new people and connecting with cuties can be fun, going on a million dates can begin to feel lackluster. However, if you're in the mood for some romantic comedy (see what I did there?), these funny dating quotes will make you live and laugh about falling in love.
Maybe you just got ghosted for the millionth time, or you're struggling to connect with the person you've been seeing. Regardless, it's not always easy to stay positive about dating. While you never want to make a joke at someone's expense (making fun of others is the least funny thing ever), shrugging your shoulders and embracing the humor of a situation can be the best thing you can do. Not to sound like a wooden plaque at your grandmother's house, but taking a moment to laugh every day can be a super important practice. And hearing anecdotes from people going through the same thing as you? Well, that's just the comedic icing on top.
Even through countless dates and unreturned phone calls, you can use funny quotes about dating to help you approach your next Bumble meetup with an open mind and an even bigger bag of jokes. Katie Boyle, an Irish comedian who's popular on TikTok, says "A bad situation is more digestible if it's funny. Now, people have a funny story to tell their friends." Even if your dating life proves to be more successful than most, (cue "jealousy, jealousy" by Olivia Rodrigo) it's still important to carry your best one-liners along with you on the rollercoaster ride that is your love life.
Simone Anderson and Isabella Marano are the two hosts of Swipe Talk, a podcast and TikTok account about the ridiculous world of app-based dating. "With dating, people are constantly looking for something they have in common with people. Because most people feel bad about dating, they can share these relatable stories on social media, share a laugh together and feel less alone," Marano tells Elite Daily.
"As opposed to coming home and crying about the fact that you thought you were having a great date until the guy went through the bathroom window to escape the date, let me get on the internet and make fun of the fact that I've been on 50,000 first dates," said Anderson. "Self-deprecating humor will never not be funny. People would rather laugh than cry about an experience."
Anderson encourages people in the dating world to not take themselves so seriously. "Let this one date a week be a moment of laughter and not a serious interview," said Anderson. "I date for character development. There's no pressure toward making my next boyfriend my husband. That's why it's so important to find the light-heartedness and humor in dating."
Anderson believes that every date, boring or not, is a chance to grow as an individual. "If I'm on a date and a man is boring, I have nothing to lose here," she says. "This is now a rehearsal for the next person I go on a date with." If you're looking to smile today, these 51 quotes about dating make falling in love a laughing matter.
Whether you vent about Tinder or joke about your girlfriend's smelly salad dressing, sharing silly stories is a great way to connect with the people around you. Of course, if you're getting sick of being single (@ me), laughing along the way can help you stay positive. No matter your romantic status, being kind and patient with yourself is no laughing matter.
Experts:
Katie Boyle, Irish Comedian with dating experience
Simone Anderson, Co-Host of Swipe Talk Podcast + TikTok
Isabella Marano, Co-Host of Swipe Talk Podcast + TikTok
This article was originally published on