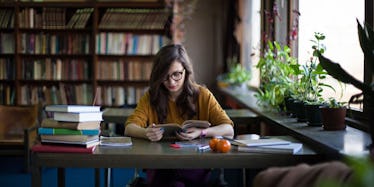 8 Inspirational Dating Mantras To Guide Your Purpose For The New School Year
If you're starting the new school year and worried about jumping back into college dating, you may need to keep some things in mind in order to keep your confidence up and your spirits high. Trust me, I get it — dating can be very annoying. From ghosters to people who have serious communication issues, finding a connection can feel like a slog sometimes. And keeping positive about the dating game can be difficult when you seem to be dealing with a string of negative experiences. I'm here as your helpful dating writer to deliver inspiring quotes about dating for college students so you feel a little bit more peppy about the rest of the school year ahead.
So even if you're a little hesitant, a new school year means new opportunities. You may end up sitting next to someone in class that you're attracted to, which could give you that rush of butterflies that'll make you a tad bit excited again. And when you're feeling the feels all over again, you may need some reinforcement to help you get back into the right mindset. If you're down in the dumps about dating at college, try reading the following quotes to lift you out of it.