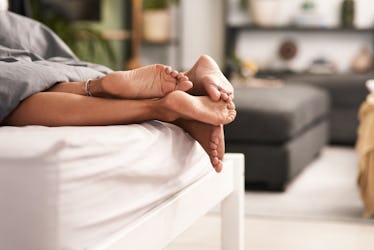 10 Spicy Stories About People's First Times Giving Oral Sex
The hot, the awkward, and the unforgettable.
PeopleImages/E+/Getty Images
There's a first time for everything — including oral sex. This sex act can be nervewracking the first few times you try it, and that's totally OK. When the time and place is right, oral sex can also be extremely satisfying, either as foreplay or as the main event. The key is making sure you've both given consent, you're excited, and that you trust the person you're about to go down on. "You get to decide which specific sexual acts you do and don't want to participate in," sex therapist Vanessa Marin previously told Bustle. So, your first step is making sure you're ready and enthusiastic about taking this step.
Once you've checked in with yourself, you can start preparing for your first time giving oral sex. Marin suggests practicing on a sex toy to ease your nerves if you're really getting in your head. "At first, practice simply holding the object in your mouth," she says. "Practice breathing in and out of your nose, and try to get yourself to relax … The idea is just to get used to having something in your mouth." You can also use your hands to help you get the other person off. "Hand jobs may feel less intimidating to you, and they can help you get used to playing with a penis," she says — or a vagina, or any other sex organ you're planning to give oral to.
It helps to hype yourself up with positive self-talk beforehand. "Our internal dialogues have a huge impact on our mental states," Gigi Engle, sex coach, sexologist, and author of All The F*cking Mistakes: A Guide to Sex, Love, and Life, previously told Elite Daily. Kick that inner critic out of your head. "Tell yourself how hot you are and [how] strong you are," Engle suggested. "If you feel good about yourself and your body, you can enjoy everything that's happening to you."
Another way to feel better (and to realize that no one's first time is perfect) is to read oral sex stories from other people. They range from hilarious to cringe-worthy, but the common thread is that everyone is in this together. Read on to find 10 incredible stories of people's first time performing oral sex.
As you can see, everyone's first time is different. Whether you had an outrageous experience or you've never experienced giving oral sex, DW! As long as the sex you're having (or not having) is safe and consensual, there's no right way to feel good.
Experts:
Vanessa Marin, sex therapist
Gigi Engle, sex coach, sexologist, and author of All The F*cking Mistakes: A Guide to Sex, Love, and Life
This article was originally published on