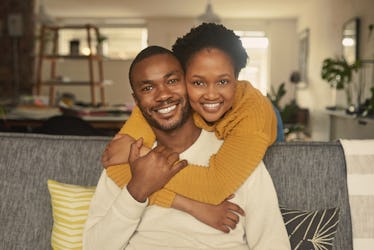 6 Expert-Approved Sex Tips For Your First Time
LaylaBird/E+/Getty Images
Being nervous about having sex for the first time is totally natural. And even if you know you're ready, so much about your sexual debut can feel like a mystery. You might be thinking about when and with whom you'd like to experience sex for the first time, whether or not it will be painful or pleasurable, and what even qualifies as sex. To assuage some common first-time fears, I asked three experts for sex tips for your first time. They offered specific, super-empowering bits of advice, but generally, the main takeaway is to prioritize your comfort, no matter what.
That doesn't necessarily mean you should try one specific position or particular sex act. Prioritizing your comfort is about honoring what you want to try, what your boundaries are, and being honest about it — even if that means changing your mind. Remember: Consent is always reversible. "Just because you've decided to try having sex for the first time, does not mean that you've committed to having sex 'to completion,' whatever that means to you," therapist Casey Tanner, LCPC, tells Elite Daily. "You can absolutely pause or stop midway through if you decide that the timing, feeling, or person is just not right. You can also stop midway through simply because you want to."
Below, six more tips to help you feel comfortable and confident when you're ready to have sex.