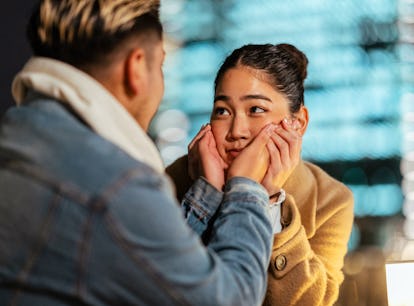 6 Ways To Tell If You're Only In Love With The Idea Of A Person
The fantasy can't last forever.
recep-bg/E+/Getty Images
Before I met my current boyfriend, I thought I was in love multiple times. Looking back on those relationships and comparing them to the way I feel about my boyfriend now, I've come to the conclusion that I didn't love them. Instead, I think I only loved them in theory, so if you ever find yourself wondering, "Do I love him or the idea of him?" then you're definitely not alone. It's not always easy to tell the difference between the two, but chances are you won't ever feel totally satisfied only loving someone in concept.
As Anita Chlipala, a licensed marriage and family therapist, previously told Elite Daily, loving the idea of someone usually has little to do with the person themselves. "I've asked clients, 'Why are you with your partner?' Their answer is, 'Because I love them.' When I ask, 'What else?' they struggle with answering the question," she said. "If you truly love the person you are with, you should have no problem rattling off a litany of their characteristics and behaviors that you find endearing and make your partner special to you."
Wondering how to tell if you like someone or just the idea of them? Here are a few signs you aren't in love with that person.
True love isn't always easy to recognize, but once you find it, I have a feeling you'll know it.
Sources:
Anita Chlipala, licensed marriage and family therapist
Dr. Joshua Klapow, clinical psychologist
Cayla Buettner, matchmaker with Three Day Rule
Dr. LeslieBeth Wish, licensed clinical psychotherapist
Editor's Note: This story has been updated by Elite Daily Staff.
This article was originally published on