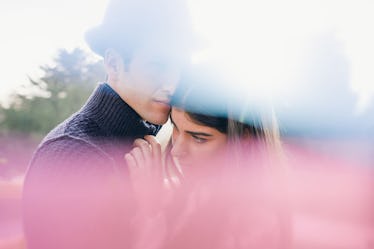 These 3 Signs Mean You're Only In Love With The Idea Of Your Partner
You've probably heard people say this, even if it wasn't directed toward you. The concept that you're only in love with the idea of someone can come across as vague, but this phenomenon happens more often than you might think. Being in a relationship has tons of perks, after all. You always have someone to snuggle with when it's cold, and you never have to go to the movies alone. But you should love your partner for who they are, not just because they're a warm body to sleep next to at night.
Maybe you're trying to fill an empty space in your life and you don't realize it. People need companionship, intimacy, and validation, but if you aren't complete on your own, depending on your boyfriend or girlfriend for happiness isn't the answer. You may have convinced yourself that you love them, but if you can relate to any of the below red flags, it's possible that you're more into the idea of being in a relationship than you are in love with your actual partner.
I spoke to Joshua Klapow, Ph.D. clinical psychologist and host of the Kurre and Klapow radio show, about signs that might indicate you're only in love with the idea of your partner. Here are three red flags that should be on your radar.