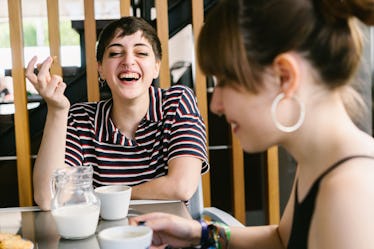 6 Clues That Your Date Definitely Wants To See You Again
Yep, you made an impression.
I used to go on a lot of bad first dates, ranging from "just OK" to truly awful. But what always kept me putting myself out there (despite the disappointing odds) was remembering the good dates. Sure, dating can be frustrating, but it can also be super fun if you and the other person vibe really well. And you generally know pretty quickly if you would be game for a second date or not.
On average, it takes exactly 42 minutes and 29 seconds of meeting in person for someone to know if they want a second date, and 19% of people know within just 10 minutes, according to the dating app the Inner Circle. Clearly, when you know, you know, and trusting your instinct is usually the best bet.
On the flip side, being able to tell if someone wants to see you again is another story. You can easily get caught up in second guessing everything you thought went well. After all, it's not uncommon to go on what felt like a great date in the moment just to have it fizzle out or completely disappear afterwards. Knowing that, can you ever really tell if you're on the same page as someone when it comes to wanting to hang out again?
It's actually not that difficult, as Connell Barrett, Dating Transformation founder and executive dating coach, tells Elite Daily. "You can absolutely read someone's behavior to tell if they want to see you again," he says. "Both on a date and after, people are like radio towers — always broadcasting information about how they feel and what they want. You just have to look for clues." But in order to effectively pick up on said clues, online dating expert Julie Spira tells Elite Daily you can't just check out — you need to be on the lookout. "It's actually easier to spot if someone doesn't want to see you, so I recommend being present while on a date, and showing an interest in what your date has to say," she explains. Here's what else the experts say to look out for.
This article was originally published on