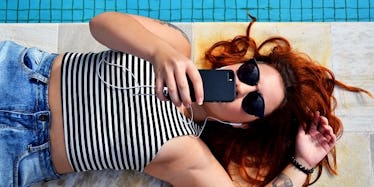 Bumble's New Feature Lets You "SuperSwipe" A Guy If You Really Want Him To Match You
Bruno Gomiero/Unsplash
Dating apps have been rolling out some super interesting features lately.
Tinder recently released a feature where you can see who's swiped right on you before you start swiping. Hinge is letting you add videos to your profile to avoid people's attempts to catfish.
And now, Bumble is joining those ranks with a new feature called "SuperSwipe."
When you're swiping on a dating app, it's so easy to feel like you're not actually looking at the profiles of real humans. After a while, every profile just becomes a variation of the same four or five photos. How do you figure out who's worth swiping right on and starting a convo with?
Well, "SuperSwipe" is a feature that indicates to a potential match that you really, really want them to swipe right on you. You'll now see a little heart next to each of your potential match's profiles, and once you click on it, that user will get a notification that you want them real bad. In other words, you'll stand out.
One SuperSwipe will cost you one Bumble coin, which is 99 cents. If you've got a lot of people you're particularly interested in, you can buy up to 20 Bumble coins for immediate use in a session.
It should be noted that if you have Bumble's premium service, you already know when someone has swiped right on you. But for someone to shell out some of those dolla dolla bills to let me know they want to get to know me? Well, I'll be damned. Flattery will get you everywhere.
I love the way Bumble encourages women to make the first move. This feature is just another amazing step to motivate women to not only make the first move, but be extra thirsty when we do. I am extremely here for this.