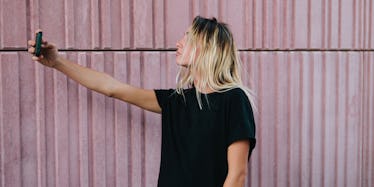 Hinge Is Letting You Add Videos To Your Profile So All Catfish Can Swim Away
Do your Instagram videos consistently crush it? Do you also happen to be single and looking for love?
Then Hinge might just be the app for you!
The dating app has decided that our dating culture has gotten more bleak than ever. And they're going to do something about it.
How are they going to do something?
Well, they're the first major dating app giving people the option to upload videos onto their profiles to give other potential matches a more well-rounded view of who they really are when they swipe through their profile.
"Our generation is already capturing and sharing so many parts of our lives through video because it's more personal and more authentic," says Justin McLeod, Hinge's founder and CEO. "We expect it to lead to better connections and better dates. Two years from now I think we'll all wonder how we used dating apps without video."
But posting "videos" doesn't mean you'll be making awkward introduction videos like a Bachelorette contestant. Think of it more like your Instagram profile being used for dating.
By that, I mean you can literally upload any of your favorite Facebook or Instagram videos — or even videos of you from your camera roll — right to your profile, along with your pictures.
The videos will even play on your profile on a loop as potential matches scroll through.
In order to make sure their users are actually serious about finding real-life romantic connections, Hinge charges people who want access to the app $7 a month. For those of you who aren't big on the whole numbers thing, this translates to $84 a year.
If you're anything like me, you're thinking that sounds like a lot just for a dating app. And how do we even know it'll up your chances of finding love by THAT much?
Well, Hinge claims that it's focus on showcasing people's authentic personalities has made the app five times more likely to lead to five times more dates.
Plus, these videos might also save you from wasting your time on users who end up being totally different in person than they appeared to be on their profiles. And you'll really get a better feel for whom you're swiping on before you put your finger to the phone screen.
So, like, BYE CATFISH.