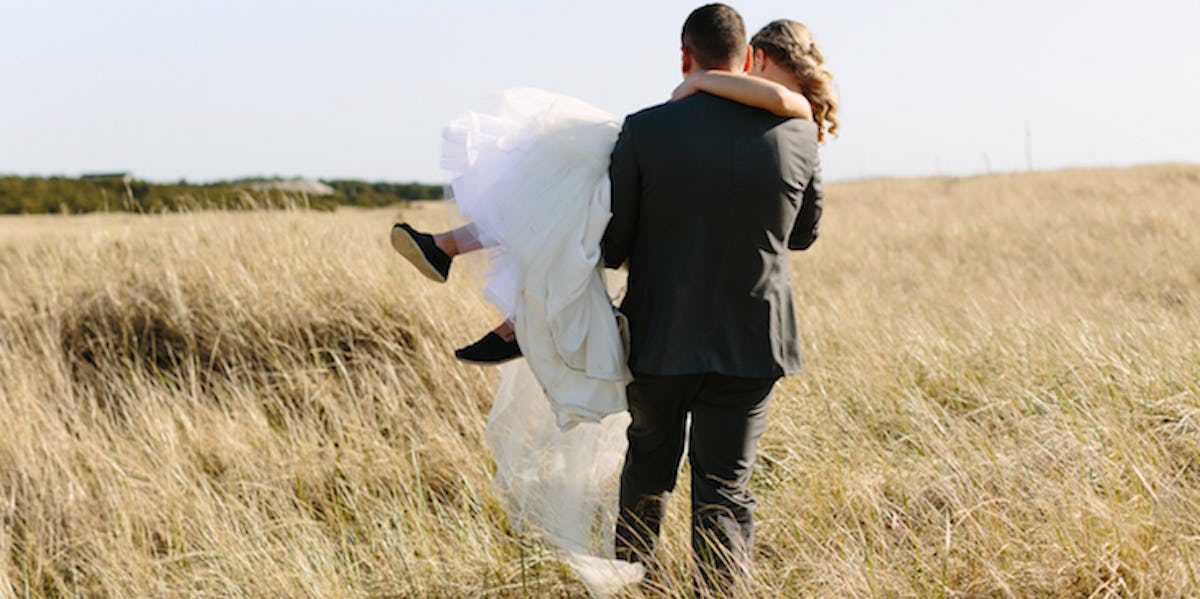 This Bride Got Surprised With Her Own Wedding, So That's One Way To Do It
Jenn and Lorenzo Trujillo are a couple of U.S. Army Band musicians who happened to fall in love.
They also got married this past Friday, and had a pretty unconventional wedding.
Up until the actual wedding, things were pretty normal. BuzzFeed reports that Jenn and Lorenzo had been dating for over two years and wanted to marry for a long time.
The couple, both in their late 30s, had both been married previously and agreed there was no need to go through with all the fanfare all over again.
"We kind of said we'd probably just go to the courthouse and elope, do something small," Jenn told BuzzFeed News. "We've both done the big thing in the past, we didn't need to do it again."
They went ahead and got their marriage license a while back, but according to BuzzFeed, they still hadn't prioritized any wedding planning.
Finally, Jenn approached Lorenzo and asked when they were actually going to get married. He told BuzzFeed his response: "You know what? Don't worry about it. I'll figure it out."
And Lorenzo wasn't messing around.
On July 7, 2017, Lorenzo hosted a surprise wedding for his wife.
Yep, you read that correctly.
It wasn't the guests who were supposed to be surprised with the wedding. It was the bride — like a surprise birthday party, but instead, it was, you know, the most important day of her life.
How'd he pull it off?
Basically, Lorenzo told her he snagged tickets to some really exclusive event, and that she needed to dress up for it.
Thankfully, Jenn ended up trying to kill two birds with one stone by buying something she thought she could also wear to the courthouse wedding they had planned.
They went out to dinner before the "event," and that's when Lorenzo popped the question. And of course, she said yes! (But can you imagine if she didn't? How awk.)
On the car ride home to grab their "tickets" to the made-up "event," things got even more awkward, as Jenn brought up the wedding thing again.
"She said, 'Now that we're engaged, are you going to tell me when we're actually going to get married?'" Lorenzo explained. "So the whole way home, I'm sitting there thinking, I can't tell her anything!"
"He lied his ass off," Jenn told BuzzFeed.
When they got to their house, the wedding (planned by Lorenzo, with the help of their neighbors and best friends, Allie and Ryan, in just 10 days) was all set and ready to go.
As soon as they walked in, Lorenzo said Jenn noticed the "twinkle lights" and asked what was happening. At that point, her BFF Allie handed her a bouquet, and it was go time.
Jenn wasn't the only one being surprised, either.
BuzzFeed reports that most of the guests were also under the impression that this was simply just a surprise party for Jenn.
So... what do people think of all this?
Lorenzo's surprise wedding idea was unconventional, to say the least.
People even tried to warn him not to go through with the crazy idea in the first place.
"The photographer called me a couple times," he said. "He was like, 'Now, you're sure this is okay, right? Because you're surprising the bride at her own wedding. She's on board, right?'"
It wasn't just the photographer, either. Lorenzo's best man, like any good BFF, was concerned about his boy's big plan.
Lorenzo continued, "The best man told me he was really nervous and said to one of our other friends, 'Should I tell him no, this is a bad idea?'"
Even the internet was a bit... confused by this idea.
There was a fan of Lorenzo's surprise, though.
I must say, as a person on the internet, I'm not even sure I would be super stoked if my fiancé hosted a surprise wedding for me in my living room.
But, at the end of the day, there's only one opinion that matters. And that's Jenn's.
"For me, it was the most perfect thing. Every ounce of it was perfect," she said.
Well, if it works for her, it works for me. Congrats to the newlyweds!