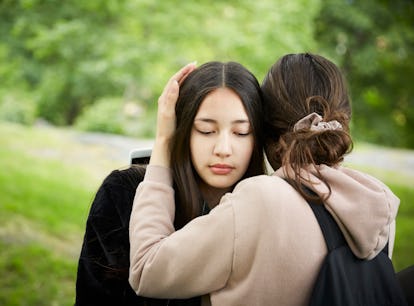 These 15 Breakup Gifts Are Sure To Make Your Bestie Feel The Love
Don't underestimate the power of a weighted blanket.
Maskot/Maskot/Getty Images
It's hard to know the right words to say to a friend after a breakup. Time might be the only thing that really allows them to heal, but there are other ways you can help ease their pain, even if you don't have any consolation or advice to offer. Actions speak louder than words, and sometimes, a post-breakup present is more meaningful than saying, "They didn't deserve you," or, "I'm sure you'll feel better soon." If you need ideas for breakup gifts to give your bestie after their relationship ends, then I've got a few suggestions that are sure to make them feel loved.
Maybe you want to give your BFF a present that will help her feel empowered and strong. Maybe you want to give 'em something that will just help them feel cozy while watching post-breakup movies. No matter your budget or what stage of grief your BFF is in, I've rounded up some breakup gifts sure to brighten any newly single person's day.
Don't get me wrong — a sweet card, thoughtful compliment, or kind gesture can mean just as much as a store-bought gift. But if you have the means to spoil your heartbroken bestie, then these post-breakup presents might help them temporarily forget that undeserving ex.
Breakups suck, but breakup gifts can help your bestie feel at least a little bit better. And if you're going through a breakup, go ahead and buy one (or all!) of these gifts for yourself, because you totally deserve it.
Editor's Note: This story has been updated by Elite Daily Staff.
This article was originally published on