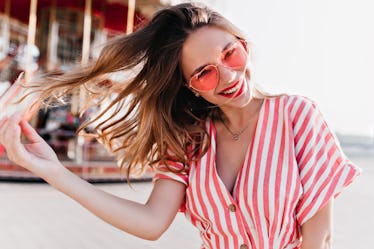 30 Breakup IG Captions To Use After Your Unofficial Relationship Ends
"It's a me, myself kinda attitude."
Shutterstock
One of the weirdest things about unofficial relationships? Knowing how to officially announce the unofficial breakup. Even if you don't have any photos to delete of you and your sort-of boo from the 'gram, taking to social media after the end of a maybe-relationship can help ease the pain. Posting a hot pic post-breakup is amazingly cathartic, and it can help you reclaim your single status — even if you don't feel like captioning your fire selfie, "Single and ready to mingle!" If you're in need of some Instagram breakup captions for after your unofficial relationship ends, then I've got some suggestions.
Maybe you're looking for a little confidence boost. Maybe you want to share some positive vibes. Maybe you want that unofficial ex to see just how much you're thriving (and want everyone else to see that you're back on the market). No matter what kind of message you want to convey to the world and to your followers, I have the perfect breakup caption for your first post-split Insta. Remember: The best revenge is looking good, and the best way to exact that revenge is by posting that good-looking pic alongside one of these "move on" captions for Instagram.
A relationship doesn't have to be official to hurt when it ends. You and your ex may not have ever been Insta-official, but that shouldn't stop you from using Instagram to help yourself move on. If you're ready to celebrate your single self, these breakup captions will definitely help you do it.
Editor's Note: This story has been updated by Elite Daily Staff.
This article was originally published on