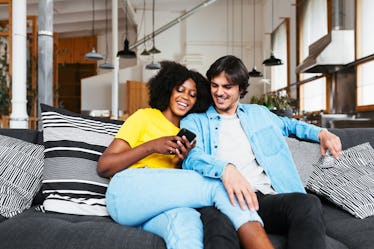 If Your Partner Never Posts About You On IG, Here's What To Do
To post about your SO or not to post: That is the question. And the answer is, well, complicated. There's no hard and fast rules when it comes to relationships, and that includes your partner's social media behavior. Whether you have your SO's post notifications turned on or you forgot to follow them back, social media plays a role in relationships. Either position is valid. But if you often ask yourself the (digital) age-old question — why your boyfriend doesn't post about you on social media, or why your girlfriend rarely shares cute Instagram tributes to you — it's important to remember you're not alone.
As much as we may try to deny it, social media can have a big impact on our mood. Being Insta official sounds simple enough, but there are tiers to it. Everyone knows a couple pic on the main feed is more serious than a casual IG Story mention. (Right?) It's natural to be upset if you have a significant other who doesn't post pics of you on social media, if that's important to you. "Social media is the coming-out party for your new relationship," bestselling author and relationship expert Susan Winter previously told Elite Daily.
In other words, it's totally fair that you want a virtual celebration for your relationship. But what to do if your partner isn't on board? Maybe they're pretty private online, or they simply haven't taken the initiative to post about you yet — and you haven't worked up the courage to ask. There's no one-size-fits-all answer here. It comes down to clear communication and respecting each other's boundaries, which is admittedly easier said than done. Luckily, you do not need to navigate this tricky situation alone. Here's some reassuring advice from relationship experts and other fretting partners on how to deal with a SO who doesn't post you on the 'gram.
This article was originally published on