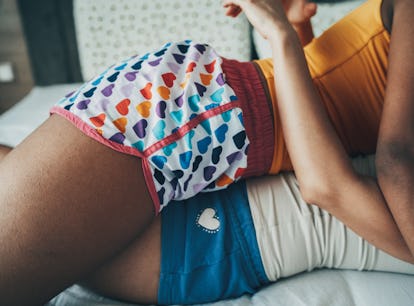 30 Sex Toys For Couples Under $40 To Spice Up Your Sex Life
Date night just got way hotter 🔥
filadendron/E+/Getty Images
Having a fun sex life is a critical ingredient to a long-lasting and happy relationship. But sometimes, life gets in the way. It's hard to be down for a sexy time when you're juggling never-ending to-do lists, school, or work stress. If you want to take things to the next level in the bedroom, there are steps you can take to spice it up — like incorporating a sex toy for couples into your routine.
I always say a sex toy is a wonderful way to deepen your relationship with yourself and your boo. As a sex & relationship coach, I regularly preach the importance of partnered play to my clients, friends, family, boyfriend... and really anyone that will listen. Think about it: When you throw a vibe into the mix with your S.O., you have to practice communicating what you like and becoming more comfortable about your pleasure. Plus, there's nothing to lose. The sex toy exists purely to enhance your pleasure — and your sweetheart's — to help you both explore new sides of erotic sex together.
Perhaps you like toys that only focus on your erogenous zones or maybe you're really into PIV penetration or all you just want is a rumbly vibe that gets your nether regions tingling (whatever gets you off!). That said, I've pulled some of the best sex toys for couples from my favorite sex toy sites, Adam and Eve and Babeland. Even better? They're all under $40! For beginners to advanced users, there's something in here you'll want to add to your cart.
We may receive a portion of sales if you purchase a product through a link in this article.
Using a sex toy together can be a blast, but the real fun is choosing one that truly wows you both. You can discover your preferences, personalization, and fantasies by playing around with new toys and seeing what you like. Choosing the right couples sex toy is guaranteed to bring extra oomph to your sexual interactions and become a mainstay in your nightstand drawer.
From vibrators to card games to a bag full of roses, there are so many ways you can spice things up with your partner. Being curious about partnered play by introducing toys and fun to the bedroom shows your significant other how much you prioritize their pleasure, but most importantly, that sex is a fun space to try new things and have fun.