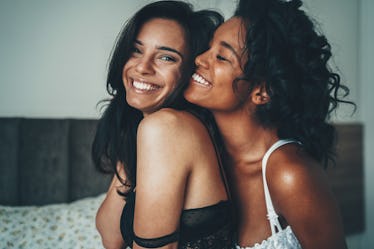 Here Are The 10 Most Underrated Erogenous Zones To Stimulate
filadendron/E+/Getty Images
Listing your favorite places to be touched during sex can feel like an adult version of the song "Head, Shoulders, Knees, and Toes" (although, TBH, those four can be a pretty good place to start). Whether you totally lose it when someone kisses your neck or love getting rubbed on your back, discovering new underrated erogenous zones to stimulate may change everything you thought you knew about getting frisky.
According to Dr. Mary Jane Minkin, OB/GYN at Yale-New Haven Hospital and clinical professor at Yale University School of Medicine, erogenous zones are parts of the body with a surplus of nerve-endings. While you may already know some more common ones, like your genitals or nipples, erogenous zones can take many shapes and sizes.
"Anything can be an erogenous zone!" Dr. Minkin tells Elite Daily. "One of the most important things that a couple can do is to communicate to each other what each one's zones are so that they can maximize good feelings."
Of course, the most crucial part of exploring new zones is first and foremost discussing consent. Although experimenting and trying new things can be sexy, it's more important to be on the same page.
If you're ready to explore together, here are the 10 most underrated pleasure spots to play with.