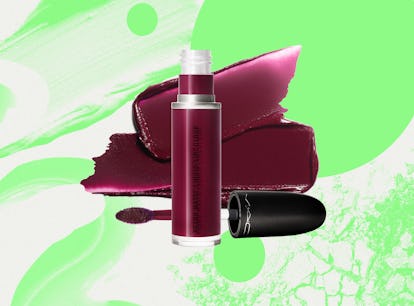 MAC's Retro Matte Liquid Lipcolor Lasted Me 12 Full Hours At Disney
It's a bold burst of color in a matte finish.
We may receive a portion of sales if you purchase a product through a link in this article.
I am, among many things, a connoisseur of lipsticks. Over my career, I've tested over 500 different lip products, but one amongst the many has stood the test of time: MAC's Retro Matte Liquid Lipcolor.
Now, there are several requirements I have when it comes to a lipstick I'd use my own money to buy. First, it needs to have bold pigments because I hate wearing barely-there colors. Second, it needs to last longer than six hours because I'm lazy and despise reapplying (or constantly worrying if my color transferred to my food or chin). Three, it needs to be inexpensive because I refuse to spend money on something that isn't worth it.
Thankfully, MAC's Retro checks off all these boxes and more. And that's not just me speaking as a fan of the brand, but as someone who wore this lipstick around Disney World for 12 hours straight without reapplying once. I'm serious; I ate my way through the park (we're talking churros, adult beverages, *several* midday snacks) and the liquid lipstick stayed put the entire time. I even received a few compliments on my lip color, which was a limited-edition color for the brand's collab honoring Selena Quintanilla called "Siempre Selena."
After several years of rocking MAC Retro Liquid Lipstick, I can say with the utmost certainty that few other brands live up to their long-lasting advertising. Below is my honest review of this liquid lippie.
BDG product reviews and recommendations are written and conducted by writers and editors with expertise in their fields. Testers often have specific experience with the situation or product at hand, and/or their review or recommendation is provided in consultation with experts. You can learn more about our standards here.
Fast Facts:
Price: $25
Cruelty-free: Yes.
Who is it best for: People who hate having to constantly touch up their lipstick or people who are constantly worried if the color is still on their lips after an hour.
What I like: This lipstick lasts for hourssss. I rarely (if ever!) have to reapply, even after meals.
What I don't like: After a few hours, the formula can feel a bit drying, but it's nothing a little balm or pre-conditioning lip mask can't fix.
My rating: 4.3/5
The Packaging:
MAC's known for its simple, sleek packaging and this product is no different. I appreciate being able to see the color of the lipstick through the clear tube; this saves me so much time rather than having to open and close each of my lipsticks to find the color I'm looking for. I do wish the packaging was more durable; my fiancé accidentally dropped one of my limited-edition colors and shattered it (don't worry, he replaced it with a new color!), but I was heartbroken that the tube could break that easily.
First Impression:
I was among the first to try MAC's Retro Matte Liquid Lipstick when it debuted back in 2016. A fellow editor gifted me a tube of bright crimson and I've been hooked ever since. As a broke college grad, I used every last drop of this product and really appreciated how long it lasted me. I love it so much, I have several colors on my vanity.
How To Apply:
Simply swipe the color on your lips. If you'd like, you can line your lips prior, but I find if you're careful enough, there's no need to do this — especially because it won't feather. If you want a more diffused look, the brand recommends blending the edges with a small brush before the lipstick dries. They also recommend using a lip primer for added comfort (although I have yet to try this, I feel it might solve my conditioning critique).
The Results:
These lipsticks are hyper-pigmented and leave you with a bold burst of color in a matte finish. It's super long-wearing (mine has lasted up to 12 hours without needing to reapply, but the product description guarantees at least eight hours of wear). There are currently 11 shades in the collection, which is mainly filled with deep reds and plums, although I'd love to see more nude shades available to wear on a day-to-day basis.
Similar Products:
From Maybelline's SuperStay Matte Ink Lip Color to a long-lasting vegan liquid lipstick by Urban Decay, here are similar alternatives.
Is It Worth It?
These lipsticks are definitely worth the money, especially if you're a die-hard fan of red lips. You'll never have to worry about your lip color smudging or feathering, and you can guarantee the color is staying put for nearly a full day without reapplying (even through coffee breaks, snack breaks, and unexpected makeout seshes).
The Final Verdict:
In my opinion, it's one of the best long-lasting matte liquid lipsticks on the market. I love it so much, it's on my shortlist for my wedding day — that's how much I trust the color to stay put and look good. Plus, at $25, it's actually affordable, especially for how long a single tube will last you.
About Me:
I'm a freelance writer that's owned and tested over 500 lipsticks. I've been writing about beauty — among many other things — for the past seven years, and am always on the hunt for products that are actually worth the money and not just a one-off trend.