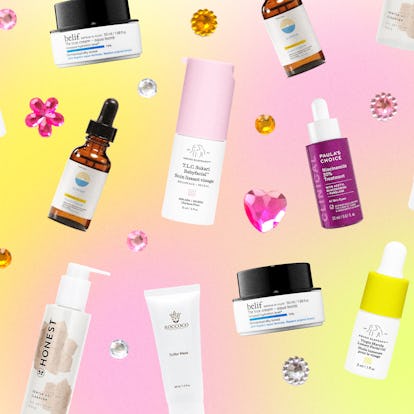 12 Products That Actually Work On Breakouts, According To Elite Daily Editors
This stuff is the real deal.
Elite Daily/Shutterstock
Yes, everybody breaks out. But everyone's skin is different, which means your bestie's Holy Grail pimple product might do diddly squat for you. That's one of the reasons treating pimples, pustules, and every blemish in between can be such a chore. While it can feel overwhelming to try to treat breakouts at home, I like to think a vast array of products to choose from is actually a good thing. The more options you have, the more likely you are to find a skin care product that actually works for your breakouts. If you're looking for somewhere to start, here are 12 tried-and-true faves among the Elite Daily editors that might just be a fit for you, too.
Granted, finding the right acne-fighting products isn't easy, especially with new skin care lines popping up daily (or, at least, it feels that way). To simplify the search and streamline the shopping process, my general rule when I can't test a product myself is to read reviews from people with skin like mine. If that's your go-to methodology, too, you're in for a treat.
In celebration of shopping for skin care based on skin type — instead of whatever happens to be blowing up your #FYP — I asked my fellow Elite Daily editors to share their go-to skin care products for when they break out. Since not all breakouts are created equally, some intrepid editors shared more than one product because, let's face it, you're not going to slap a hormonal breakout serum onto a fungal acne flare-up, amirite?
Whether you prefer hydrocolloid patches, gentle cleansers, or spot treatments, you're bound to find a product you'll love among this bunch. Read on to match your skin type and concern with one of Elite Daily's editors, and see which product they swear is about to become your new skin care ride-or-die.
We at Elite Daily only include products that have been independently selected by our editors. We may receive a portion of sales if you purchase a product through a link in this article.