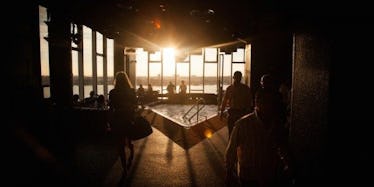 Young Tennis Star Shows How Women In Sports Are Still Being Fat-Shamed
Stock
Women who play sports professionally certainly aren't immune to scrutinization of their looks or their weight. But what's surprising is that female athletes have to listen to these claims about dropping pounds to improve their game, all the while when they're winning.
Tennis player Taylor Townsend, making her appearance at the French Open tournament last week, has increasingly had to deal with the public weighing in on her weight, as she proves herself a rising star in the sport.
The 18-year-old American has been criticized for what commentators describe as "lack of fitness."
But, what tennis players and other game experts suggest, Townsend is actually just incredibly talented at her sport, and her high-level of play doesn't indicate the need to drop a few pounds.
Instead, this preoccupation with Townsend's looks are perhaps just another form of fat-shaming, which has seeped past the fashion industry (where we expect this sort of scrutiny) and into the sporting world.
In this realm, women's bodies should be seen as strong, powerful and the whole reason for their success in the first place.
And while her critics have told Townsend to "tone up," or "lose weight," she just keeps winning.
The 205th-ranked Townsend, who is believed to have 170 pounds on her 5'7" frame, shocked French Open crowds when she beat out the 21st-ranked Alize Cornet, and not just because of their disparity in rank.
People really began to harp on this result because it upset what they understood as the predominant image of the better "healthy" and "more athletic" body.
By those clearly misguided standards, the tightly-toned Cornet would have handily defeated Townsend, who would have been huffing and puffing in an attempt to keep up. But that was clearly not the case.
Although Townsend lost to Carla Suarez Navarro of Spain in today's match, this defeat shouldn't be attributed to the fact that Townsend might be larger than your typical tennis player — just as we wouldn't attribute Cornet's loss to the fact that she's thinner.
There's clearly a double-standard of acceptability when it comes to female athletes' weight and body types.
via The Guardian, Photo Credit: Getty Images