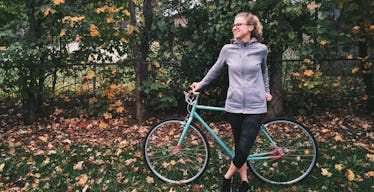 Here's How You Can Make Yoga Pants Work For Every Occasion This Summer
My absolute biggest struggle in life (aside from finding a boyfriend, making money and not being too hungover most days) is putting on pants. Specifically, pants with buttons and zippers and other bullshit that hinder my ability to human.
That's why I usually opt for yoga pants. And by yoga pants, I mean leggings because who wears actual yoga pants anymore?
They're the easiest things to wear because they go with absolutely everything, don't hurt your waist and are basically the most perfect article of clothing that has ever existed.
You know what would make yoga leggings even more perfect? If I could get away with wearing them to work.
Luckily I work in a creative office, so I have significantly more liberties than most of my friends. But it's still a struggle figuring out how to pair my favorite workout pants to a day full of meetings and reporting to my boss.
International Yoga Day was June 21, and it inspired me to put together some options for you. Here's how I style my workout leggings so no one can tell I'm living my best life:
When you don't have time to change after work:
I have this really unfortunate tendency of scheduling my yoga classes 10 minutes after I get out of the office, which leaves me just enough time to grab a bottle of water and race to the studio.
Pair your yoga pants with a long vest to cover your tush and a striped top to tie it all together. Metallic sandals will make you look infinitely chicer than you are, and they also hide the fact that your pants have an elastic waistband.
When you have to run to work after bikram:
It takes serious commitment to go to the gym before starting your grind. The hardest part of it, for me, is having to bring a zillion things to change into before work. No more!
Keep your leggings on and throw on a structured hoodie-sweater hybrid over a tank or sports bra (or no bra at all #FreeTheNipple). Pair this with slip-on sneakers and a blingy necklace to look like you tried, at least a little.
When you have to hit the clubs post-hot yoga:
I usually have to make a beeline from the gym to the bar and naturally, I rarely look like my most on-fleek self.
A pair of yoga-ready leggings, however, are surprisingly club-worthy. They're skin-tight, they're shiny and they're easy to dance in. Is there anything better?
Pair your spandex with a mesh bodysuit to add a touch of sex appeal. A metallic choker will also break up your all-black outfit and look sleek as fuck.
When you have to run to brunch:
Post-yoga brunches are my favorite thing in the world, and unlike the Lululemon-clad ladies who lunch that attend my local yoga studio, I'm not about to just go to Serafina's wearing whatever I wore to work out in.
Just kidding. I still want to wear my workout pants to hide any potential food babies.
Pair a printed set with a black crop (or a fitted black tee, if you don't want to bare your tummy) and a vintage denim jacket. Finish off with a pair of graphic kicks to get the brunch party started, and you're prepared for anything.
Yoga pants are basically the best thing to ever exist and I'm going to wear them exclusively from now on.