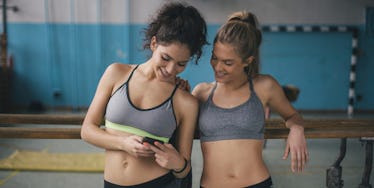 4 Empowering Ways To Celebrate Women's History Month With Your BFFs
March is National Women's History Month, and I, for one, am ready to party. I'm a lady who frequently hangs out with ladies. The fact that this month is all about badass ladies throughout history is just making life that much sweeter.
Personally, I value my female friendships very deeply. They are sources of strength, love and acceptance. I have some female friends who have known me for over a decade at this point.
This doesn't mean you have to go full Leslie Knope on your lady friends all month long, though. Treat March like a month full of Galentine's Days, and start celebrating the stunning women in your life.
1. Have a remixed girls' night.
Girls' night is a classic for a reason. Surrounding yourself with women and relaxing in their company is truly important. I love me some lady time.
However, rather than getting together to crush a few bottles of wine and watch Netflix's latest and greatest, point the night in a different direction. (Not that there's anything wrong with wine and Netflix. That sh*t is sacred.)
I like to host things like creative nights or clothing swaps. They make girls' night a little more engaging, and everyone goes home with something. Plus, wine is welcome at both.
For a clothing swap, each friend brings used clothes in good condition that she doesn't want or wear anymore. Separate these things into piles, and let people go shopping.
For a creative night, ask people to bring creative pursuits they love. Whether it's knitting, drawing, card-making or composing, ask them to perform the hobby in the company of friends.
It's an incredible way to learn about someone. Creative nights are ways for people to share their passion and knowledge. Celebrate your friends and their skills.
2. Read a book written by a woman.
Quick: Can you name a female author aside from JK Rowling? This can be a surprisingly hard question for many people to answer. Do something about that this month.
You don't have to officially start a book club. Simply pick a book written by a woman, and ask all your friends to read it. We've spent most of our lives reading books by dudes, as educational systems heavily favor the Western canon, which heavily favors dudes.
This month is about ladies. Bonus points if you choose a book written by a woman, about a woman.
Here are a few suggestions:
"Gone Girl" by Gillian Flynn
"Americanah" by Chimamanda Ngozi Adichie
"A Visit From The Goon Squad" by Jennifer Egan
"Kindred" by Octavia Butler
"How The Garcia Girls Lost Their Accents" by Julia Alvarez
3. Volunteer at a women's organization.
There are a lot of wonderful organizations dedicated to empowering women and girls. Find one in your city, and spend a few hours volunteering with your friends.
Furthering the cause of all women with some women you love is a powerful experience. Google "women's empowerment" or "women's nonprofits" in your town or city, and spend an afternoon doing good.
4. Take a class together.
Your local community college or library offers a plethora of one-time classes. Find something totally awesome, and sign everyone up for it.
I took a voter deputy registrar class with a good female friend recently. Now, we can both register people to vote, and this opens us up to future hanging out time.
It doesn't matter whether your hangout of choice is a pasta-making class or a SoulCycle session. There are a million things to do with your friends. Most classes are only a few hours long, and they're pretty cheap. Learn something with your friends this month.
While you can (of course) do these activities any time of year, this month really is special. Women have fought long and hard to get to where they are in the US today, and there's still a lot to be done.
It's nice to have a whole month to raise up the women we love and admire. Spend some quality time with your besties this month, and celebrate the amazing women around you.