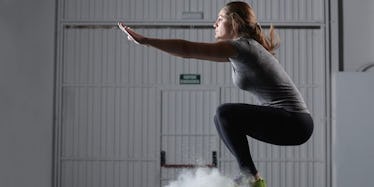 Shut Down Your Strength Gap: How To Quiet The Voice That Says 'I Can't'
Tuesday, April 4 is Equal Pay Day.
This date symbolizes how far into the year a woman must work in order to earn the same amount of money a man in the same position would have earned the year before.
Essentially, this day was created to give tangible proof of the wage gap between men and women. And let's be real: April 4 is pretty far into the year.
Another major issue with gender inequality, though (you know, as if there aren't enough problems) is the way it makes women feel about themselves.
Thanks to crippling stigmas in society (In fact, I didn't realize several things were sexist until I came to America for college.), several women accept certain misogynistic things as just the way the world works.
This means they're far more likely to think of themselves as weak... and this gives way to something called "the strength gap."
So, what is the strength gap?
The strength gap represents the difference between how strong a woman feels and how strong she could be. It's a difference between perception and reality.
Essentially, this strength can come from different aspects of a woman's life. It can refer to physical strength, inner strength or willpower, or emotional well-being.
How does it affect women?
Special K recently partnered with Girl Up,  the UN Foundation's adolescent girls' program, to share some research regarding the strength gap.
Inner strength is as important as happiness to women around the world.
They found out the following:
Inner strength is as important as happiness to women around the world, and nearly two times more significant than physical beauty and wealth.
Eight out of 10 women feel they have not reached their full strength potential.
Anna Blue, Deputy Director of Girl Up, told Elite Daily,
Inner strength is knowing your value and owning your personal brand of awesomeness. It's believing in yourself and having the self-confidence to celebrate all those things that set you apart and make you unique. At Girl Up, we encourage every girl to use her voice to advocate for girls around the world. Finding that voice within yourself starts with knowing your inner strength.
So essentially, we're capable of a lot more than we give ourselves credit for. And that perception we have of ourselves affects everything we do in our lives, from our job opportunities to our emotions.
What can you do to help?
The strength gap is a new concept, and it's focusing on the ways in which women are putting themselves at a disadvantage... never mind the fact that society isn't helping their case.
80 percent of women feel stronger when helping others.
As a result, Special K and Girl Up joined forces to help provide 500,000 young women with access to key nutrition education through customized workshops, experts and digital programs to educate them on how they can reach their full potential.
Doug VandeVelde, Senior Vice President at Kellogg Company, told Elite Daily,
Eighty percent of women feel stronger when helping others, contributing to a chain of strength. Yet, only 57 percent say they have received support from another woman. There's a lot of research that shows strength and good nutrition start at the adolescent age. And at the end of the day, strong girls make strong women.
Supporting yourself through your interests, hobbies, nutrition and exercise obviously plays a huge part in how strong you feel.
However, a chain of strength is vital for women to feel united in a world that constantly tries to tear them down.
Millennial women are more aware than ever about gender equality, and are fighting for the rights they know they deserve.
But they need to focus on their own well-being in order to truly support each other.