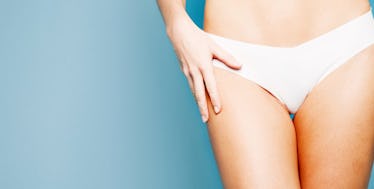 The Real Reason Why Women Are Going Commando At The Gym
This article was written by Amy Eisinger for Greatist.
Whether your immediate reaction to this article was, "Of course I go commando, doesn't everyone?!" or "What! That's so... weird!" you're not alone.
According to a small survey done by Cottonelle in 2015, about 8 percent of women say they "always" go commando in yoga pants, while 25 percent admit to doing it "sometimes." Surprised?
"[Going commando] is not something you talk about," says Julie Sygiel, a gym commando convert. "You just assume that everyone does the same thing you do, so you never know."
Sygiel was a little unsure about the practice until she tried it:
"The first time [I went commando], I went on a short run and felt so free. It sounds really corny, but I was like, 'This is a game changer!"
Whether you're simply intrigued or ditched down-unders years ago, there are a few things to know to keep your commando style healthy.
A Debriefing On Going Sans Briefs
"I've been going commando as long as I've been working out," says Charlotte, a devotee who preferred we not use her last name. "I didn't realize it was weird until someone mentioned it to me at the gym."
Evann Clingan, a fitness blogger based in NYC agrees: "When I do, it's often when I'm running," she says. "Especially in the summer, it's really hot, and the shorts that I wear have the built-in trunks. It's more comfortable without the extra layer."
If you're in their camp or thinking about joining them, breathe a sigh of relief. For the most part, there's nothing inherently wrong or unsanitary about skipping your skivvies when working out.
Wearing underwear provides a second layer of protection between you and the bacteria of the outside world, but you don't necessarily need it.
"As long as what you're wearing is thick enough so you don't get any bacteria that's on a seat at the gym, [going commando] is sanitary," says Raquel Dardik, M.D., an OB/GYN at NYU Langone Medical Center.
And let's face it: No one wants to wear paper-thin or see-through pants anyway. (Just to be safe, wipe down benches with disinfectant before using them, and lay down a towel first for further protection.)
There's also no real difference in the potential for yeast or bladder infections. "Yeast thrives in moist environments," Dardik says. "After a sweaty workout, the underwear ends up wet, and the pants end up wet. In that case, going commando doesn't increase or decrease your chances of getting a yeast infection." Bladder infections are similarly unaffected by the amount of clothing you wear, she adds, because the urethra (not underwear) protects against them.
And as long as you're washing your pants after every workout, there shouldn't be any additional bacterial issues. "Wash them with gentle detergents, like you do your underwear, to prevent potential irritation," Dardik says.
The one potential downside of ditching your boyshorts? You may raise the risk of micro-cuts and potential irritation on the sensitive skin down there.
As you likely know from experience, any place that skin rubs against fabric in a repetitive motion (like when you're running or spinning) leaves you open to chafing. This friction and other trauma can cause microscopic damage to the skin, Dardik explains. Either type of irritation can lead to infection or at least be uncomfortable, especially if you regularly wax or shave the area, which, in general, can leave you more susceptible to infection, Dardik says.
So, if you're already a Brazilian enthusiast, you may want the extra layer of soft protection underwear provides.
What To Wear Without Underwear
If your pants have seams that intersect at the crotch (forming a non-smooth surface on your sensitive parts) instead of a gusset (the triangular piece of fabric sewn into the crotch of most women's underwear), you're more likely to get irritated, says Julie Sygiel, founder of Dear Kate, a company that specializes in apparel made to be worn without underwear. The brand's pants are made from a combination of three layers of soft, moisture-wicking and stain-releasing fabrics that allow for air flow in the crotch area to help you stay drier.
Other brands, like Under Armour and Nike, offer running shorts with built-in briefs. And Charlotte says her favorite leggings come from Old Navy and Athleta because the fabric is thick and opaque.
Interested in spinning? Dardik says it's also okay to sweat sans panties if your bike shorts include a chamois (the extra padding sewn into the crotch of the shorts), which is designed to soften your ride (since those spin bikes have zero cushion!) and wick away moisture.
In addition to keeping you drier, there can also be aesthetic bonuses. "Having panty lines exposed -- especially a thong -- is the worst," Charlotte says. "I actually felt more exposed wearing underwear than without."
The Takeaway
Saying bye-bye to bikini bottoms might be more common than you think. (Try not to think about that during your next down dog in yoga class.)
If you're curious, go for it! Just make sure your pants are thick enough to save you from putting more on display than your seamless derriere and to protect yourself against potential bacteria left behind on gym benches.
And, of course, try to shower, change and wash your workout bottoms as soon as possible once your workout is complete.
This article originally appeared on Greatist.