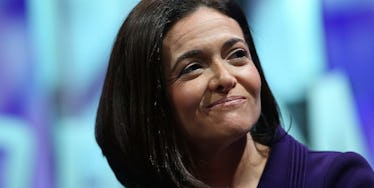 These 4 Women Are Shattering Glass Ceilings In The Tech Industry
Getty Images
The world of technology is changing. It's transforming into something much more diverse. What was once viewed as a "male-dominated" niche has segued into an industry with more equal opportunity.
Today is International Women's Day, and I'd like to highlight four women who are smashing the glass ceilings within the tech industry.
These are women thriving in the tech world, challenging gender barriers and calling out unjustifiable wage gaps. The following five women are true innovators.
They are extremely hard-working people who have earned their livelihoods and jumped into the forefront, proving that leading technology is certainly not -- and never has been -- a "man's world."
Safra Catz
Safra Catz is a Harvard Law student turned tech exec. She is currently the Co-CEO at Oracle Corporation, and has been an executive officer with the company since before the new millennium. As a cloud-based tech pioneer, Catz is a remarkable innovator and is always ahead of the curve.
Catz is also extremely influential to women wanting to take the reigns of big businesses in tech. She is credited for driving Oracle's efforts to acquire software rival, PeopleSoft, in a $10.3 billion takeover back in 2005.
In total, she can take credit for almost 100 deals, which represents tens of billions of dollars for the software company.
Even more impressive is the sheer volume of work Catz holds down at Oracle. Multitasking is her specialty, and that's an understatement.
On top of being a CEO, Catz is actually the Chief Financial Officer for Oracle. Additionally, she pushes new business to new places of the world, and recently helped create 3,000 jobs for people in Romania.
Furthermore, Catz was ranked as the 12th most powerful woman in business, according to Fortune, and has a net worth of over $500 million.
"If you are in this business long enough, you hear about a thousand things that are going to kill you. Open source? Yeah, we are not dead yet. Cloud? That's not new; it's a new name."
-- Safra Catz
Mary Barra
The world is facing a biting issue that many choose to ignore: The vehicles we drive are taking a toll on our planet.
For example, in the United States alone, people drive about 3 trillion vehicle miles per year. That's more miles than 100 round trips from Earth to Pluto.
While the world drives a ridiculous amount of miles, gas guzzling engines are still all over the place. The result is a world so polluted that the air we breathe may not be safe for our children's children.
That's why the world (especially the US) needs to revamp its driving habits. And what better way to do so, than by driving a car with zero emissions and little to no dependence on gasoline?
Mary Barra, CEO and chairperson of General Motors, has a plan to help reverse these human-made problems. And the road is led by electric vehicles.
Since last year, GM has hit the EV game hard, working to produce a solely electric car that is actually economic for consumers. The Chevy Bolt EV is a sedan that resembles any other new car on the road, but doesn't run on gasoline. Instead, the new concept car will have a charge range of up to 200 miles.
This push for cleaner transportation is certainly a sustainable effort. The average consumer will be able to buy an electric car for about the same price as any other new vehicle. Barra is helping push the boundaries of electric car technology and the byproduct is a cleaner world of the future.
"What I always say is, 'Do every job you're in like you're going to do it for the rest of your life, and demonstrate that ownership of it.'"
-- Mary Barra
Judith Faulkner
In 2013, Forbes named Judith Faulkner "the most powerful woman in health care." This could not be a more relevant title for Faulkner, the founder and CEO of health care software, Epic Systems.
Faulkner's success story humbly showcases just how driven and hardworking she's been. Soon after graduating with a master's degree in computer science from University of Wisconsin, Faulkner decided to start her own company.
She started Human Services Computing, now called Epic Systems, which has blown up with success. More than half of the US population has medical information stored in Epic software.
Beyond being widely successful and having a net worth of over $2 billion, Faulkner has shown that wealth is not her main concern. Last year, she joined the Giving Pledge, and decided to donate 99 percent of her wealth to philanthropic or charitable causes.
"Many years ago I asked my young children what two things they needed from their parents. They said 'food and money.' I told them 'roots and wings.'"
-- Judith Faulkner
Sheryl Sandberg
As Facebook's COO, Sheryl Sandberg effectively balances the professions of a business executive, an author and an activist.
She is by no means a stranger to the tech world, having moved to Silicon Valley in 2001 to join forces with Google Inc.
From 2001 to 2008, the early stages of Google, Sandberg worked as Vice President of Global Online Sales and Operations. Then, during first quarter of 2008, Sandberg was hired as COO of Facebook, and the rest is history.
A post by Time magazine named Sandberg as one of the "100 Most Influential People of 2012." It highlights Sandberg's important stance on society and social media:
"Sheryl Sandberg understands intuitively the potential of social networking to create positive change on a grand scale. She's helping people make the most of a more open, more transparent world, as Facebook creates dynamic new connections between individuals, organizations and causes — connections with the power to brighten our shared future, one click at a time."
Sandberg and other empowering women are inspiring change in the worlds of business and tech. Together, they are effectively helping to curate a movement: an increasingly welcoming environment for businesswomen everywhere.
"Every woman I know, particularly the senior ones, has been called too aggressive at work. We know in gender blind studies that men are more aggressive in their offices than women. We know that. Yet we're busy telling all the women that they're too aggressive. That's the issue."
-- Sheryl Sandberg, The Guardian, April 2014