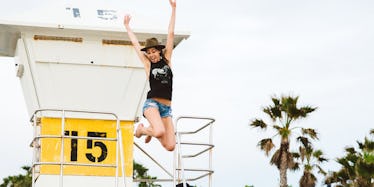 International Women's Day: 8 Powerful Quotes From Iconic Women
Stocksy
1880 - Women didn't have the right to vote.
1920 - Women had the right to vote.
2015 - Women are always right.
To commemorate International Women's Day, I thought it best to share some empowering quotes by some ambitious women to hopefully inspire our continuous fight for equality.
Because, at the end of the day, we are all cut from the same cloth.
Margaret Thatcher
"If you want something said, ask a man; if you want something done, ask a woman."
The "Iron Lady" ruled the United Kingdom for 11 years as prime minister and was known for her uncompromising politics and leadership style.
Diane von Furstenberg
"I've never met a woman who is not strong, but sometimes they don't let it out. Then there's a tragedy, and then all of a sudden that strength comes. My message is let the strength come out before the tragedy."
This Belgium fashion designer was first put in the spotlight for her marriage to a German prince, but today, she's most known for her iconic wrap dress.
Madonna
"I'm tough, I'm ambitious and I know exactly what I want. If that makes me a bitch, okay." 
The "Queen of Pop" isn't all about being an entertainer; she's also a savvy businesswoman, writer and philanthropist.
Maya Angelou
"I love to see a young girl go out and grab the world by the lapels. Life's a bitch. You've got to go out and kick ass." 
The great and late Maya Angelou graced us not only with her words, but also her vivacity in every aspect of life, including as a civil rights activist.
Amelia Earhart
"Women, like men, should try to do the impossible, and when they fail, their failure should be a challenge to others." 
Amelia Earhart was the first solo female aviator to fly across the Atlantic Ocean, showing "women can, too" during a time when her actions seemed outrageous.
Anita Roddick
"If you think you're too small to have an impact, try going to bed with a mosquito."
Anita Roddick is best known as being the founder of The Body Shop. The title aside, she helped shape ethical consumerism. Her company was also one of the first to prohibit animal testing and promote fair trade in third-world countries.
Diana Ross
"Instead of looking at the past, I put myself ahead 20 years and try to look at what I need to now in order to get there then."
Diana Ross rose to fame as a founding member and leader of the singing group, the Supremes. They rivaled the Beatles in worldwide popularity, and were one of the world's best-selling girl groups of all time.
Their success enabled future African American R&B and soul acts to also become mainstream and successful.
Michelle Obama
"I am an example of what is possible when girls from the very be beginning of their lives are loved and nurtured by people around them. I was surrounded by extraordinary women in my life who taught me about quiet strength and dignity."
Michelle Obama is the definition of the saying, "Behind every great man, there's a greater woman."
She is not only a fashion icon, but also a role model for women and a strong proponent for poverty awareness, nutrition and healthy eating.
With so many great woman around the world who have contributed to society in more ways than one, let's take this day to remember the milestones women have achieved and look forward to a more equal tomorrow.