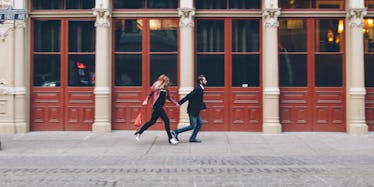 Woman Shares Her Inspiring Journey From Being A Teen Mom To Becoming A Boss
Stocksy
Photographer Brandon Stanton of Humans of New York, an ongoing arts project that has become viral on social media platforms like Facebook and Instagram, posts photos of real people and captions them with their real stories.
He recently posted a photo of a young black woman who defied the stereotypes of a teen mother and became controller of a company with a college degree.
Her story touched the hearts of thousands of HONY fans: in less than 24 hours, her photo was liked over 1 million times on Facebook.
Each year, around 615,000 American women between the ages of 15 and 19 become pregnant, and face horrible stigmas. After this teen mom, who remains nameless, was ostracized by her friends and family for becoming pregnant at 16, she refused to give up hope on her life.
She got a job at a sporting goods store and then as a receptionist at a tax firm where she eventually learned how to do taxes. Then, she moved to a new company where she earned responsibly over all the books.
The controller of the company soon left, which paved the way for a great opportunity: she became controller. They couldn't officially call her the controller, though, because of her lack of a college degree. So, what did she do? The photo caption explains:
I finished my degree five months ago — just to make it official! So after having a child at 16, I made it all the way to controller of a company, without even having a college degree. Can you believe that? Honestly, I've been waiting to tell that story so long that I told it to a customer service representative on the phone last week. She was nice about it and pretended to care.
Her journey is inspiring, and in the face of discrimination, she made it. Her story aids the already beautiful art project that aims to foster a sense of community in New York, or, as Mark Twain puts it,
[A] domed and steepled solitude, where the stranger is lonely in the midst of a million of his race.