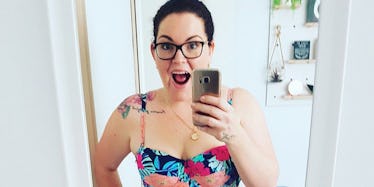 This Woman Shared An Empowering Message After Buying Her First Bikini
Krystal Gordon
Buying a swimsuit is something of an emotional roller coaster.
You're standing under unflattering lighting, agonizing over the size of your thighs and mentally cursing the mother who gave you hips that don't lie.
And that's all before you even reach the checkout line, let alone wear the damn thing in the sun.
Krystal Gordon knows exactly how you feel. She's an Australian woman who just purchased her first-ever bikini at age 31.
She understands the feeling of self-confidence battling against body shame and how difficult a small piece of fabric can be to put on in the first place.
Gordon, in fact, was overweight her entire life. According to Inspirational Wellness, a blog she started to chronicle her journey, having to raise a child put her health in perspective. Since then, Gordon's been losing weight and gaining body confidence.
This brings us to her Facebook post, which is going viral pretty rapidly. Gordon shared her first bikini selfie, along with an inspirational message for her friends and followers.
Gordon told the Daily Mail Australia she wasn't expecting the response she's gotten to the photo, which has more than 200 likes.
Her body-image lesson is one everybody could stand to learn.
She explained,
"If I can wear a bikini, anyone can. That's the only reason why I shared the photo really; to inspire others to be confident and take that lesson of self worth with them... I don't know how many times I've cried these past five days thanks to people getting in touch and sharing their stories of their body insecurities. I was so nervous to put it up online in front of everyone on the Internet, but it's totally worth the embarrassment if I can help other people."
Bikini season, at least in the US, is nearly over for the year. But Gordon's message is an applicable one, no matter your age or weight.
Don't wait to appreciate the body you've been given and learn to love it. That's just time wasted.
Citations: We Dare You Not to Smile at This Woman's Reaction to Wearing a Bikini for the First Time (Greatist)