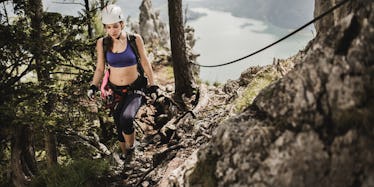 A Woman Is Making History In Puerto Rico And The World Needs To Take Notice
Stocksy
Something is brewing in Puerto Rico, and this time, it's more than just the coffee.
For the first time in the island's history, a woman has made it public that she will be running for office in 2016 in hopes of becoming the first female candidate elected as governor (as an independent).
Nobody saw this coming, and the news caught the entire island off guard.
So, why should you care? She's a fellow Millennial.
Her name is Alexandra Lúgaro, and at just 33 years of age, she would be the youngest candidate ever elected to Puerto Rico's highest political position.
Lúgaro achieved a bachelor's degree in finance and economics, and later continued her academic preparation by acquiring her Juris Doctor's degree at the University of Puerto Rico.
As if those sufficient accolades, Lúgaro also has a master's degree in public and private law from the Universidad Complutense de Madrid, where she is currently finishing her doctorate in tax law reform as an on-campus graduate.
She is currently married and a mother to a 4-year-old daughter; she has invested the last decade of her life to many entrepreneurial ventures.
Her latest project is the New Metropolitan School of America, a federally funded system with the intent to establish cutting-edge initiatives for higher learning.
The decision to run for office had impeccable timing. The current administration, poised to make a difference in 2012, has failed miserably and some would say it has made matters worse.
In comes Lúgaro. At first glance, one can see why her good looks have garnered her quite the bit of media attention, but there's more to her than meets the eye.
When asked what motivated her to make this huge leap, she responded by saying she got tired of watching her island collapse on TV.
That statement, although firm, can be understandable; around 50,000 people are fleeing the commonwealth each year in search of better opportunities for success.
Moreover, the commitment to run as an independent candidate stems from the fact that she is fed up with the current bipartisan system in place between the New Progressive Party and the Popular Democratic Party.
She believes it is trading one type of ignorance for another every four years.
Lúgaro has made her political agenda well known throughout recent interviews, and most of the bullet points she brings to the table resonate with the Millennial attitude.
Among the many changes she would like to bring forth is the legalization of marijuana, a current trending topic over multiple news media outlets.
Lúgaro argues that a cannabis tax similar to the one established in Colorado would bring forth millions of dollars necessary to minimize the current budget deficit.
Additionally, Lúgaro believes the police, corrections and justice departments would be saving taxpayers plenty of money if they weren't putting their efforts into arresting, prosecuting and putting citizens behind bars for a bag of weed.
Currently, an inmate of this degree isn't a substantial threat to society, and costs taxpayers $65,000 a year. When it's all said and done, the inmates don't leave rehabilitated.
To make matters worse, when they are released from prison with a desire to turn their lives around, they're against the odds simply because of a misdemeanor in a criminal record.
Legalizing gay marriage is another current social topic Lúgaro would like to implement permanently.
She's adamant about everyone's right to marry whomever they want, whenever they want; she believes love isn't restricted to just a man and a woman.
Taxing the churches is yet another bone Lúgaro wants to pick if elected governor.
A study by the University of Tampa concluded that not taxing the churches is taking an estimated $71 billion dollars from the economy every year.
Lúgaro is no stranger to adversity; she's had to endure the excruciating pain of endometriosis, a devastating illness that plagues aspiring mothers all over the world. Her perseverance paid off and she now enjoys the gift she calls Valentina.
More recently, she's been the target of an FBI investigation regarding the alleged illegal appropriation of federal funds for the educational institution under her tutelage.
Her offices were recently ransacked without notice, but she believes the actions that took place will play to her biggest strength: transparency.
Some believe this was done to give the rookie a taste of what politics is all about, but the people get the feeling Lúgaro's fortitude is strong and cannot be broken.
A lot can happen between now and 2016, so time will tell. But, most Millennials are already labeling Alexandra Lúgaro their hero.