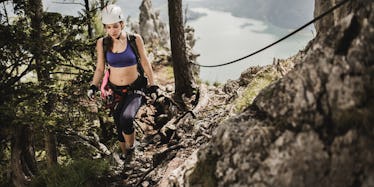 Why Wasn't This A Thing Before? Glow In The Dark Lingerie Is Awesome (Photos)
Stocksy
The future of underwear is here and it's so brilliant, I can't even.
Introducing a product that's such a great idea we can hardly believe it took this long to surface: glow in the dark lingerie.
If you're looking to bring a certain spark into the bedroom, this is it. Of course, you might ask your partner to bankroll the purchase because underthings this trendy don't come cheap. One low-rise thong is priced at $45, and one underwire bra goes for $95.
The "Glow" collection is designed and marketed by Cosabella, and offers luminescent lingerie in several shades. The only drawback might be casually orchestrating exposure to a light source for 10 to 12 minutes prior to any action.
The look on your unsuspecting partner's face might be priceless, but you probably won't be able to see it with the lights off.