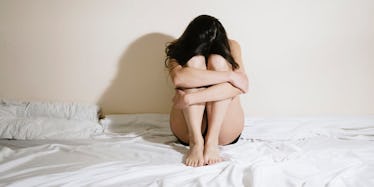 Guy Finds Girlfriend's Dream Wedding On Pinterest And Brings It To Life To Prove Not All Men Are Assholes (Video)
We're no strangers to weddings plastered all over social media. Between Twitter announcements, Facebook engagement statuses and Instagram proposal photos, telling the world that you are finally getting hitched through social media has become ubiquitous.
And while most of us just browse through these updates without a second thought, one groom-to-be actually used his fiancée's Pinterest board to his advantage.
Like every girl who dreams of her wedding way before it actually happens, Amanda Roman began posting pictures of what she wanted her big day to look like on her Pinterest board.
Her would-be fiancé, Ryan Leak, did some clever investigating through her photos and planned the big day for her. He knew she wanted her engagement and wedding to be on the same day and he knew what special touches, like specific music and centerpieces, she couldn't live without.
"She planned the entire wedding without even knowing that she planned the entire wedding," Leak said.
Taking all of the fuss and hassle out of organizing a wedding, without having to hire a wedding planner?! Now that's love.
But Ryan still got to add some of his own personal touches -- the wedding took place in his dream city of choice, Miami, where he proposed on site right before the actual ceremony. It's a good thing Amanda said yes!
So is that all it really takes for our boyfriends to get a hint that we want to take it to the next level? Make a detailed Pinterest board and the rest is history? If that's the case, we're splurging for The Plaza!
H/t: The Daily Dot