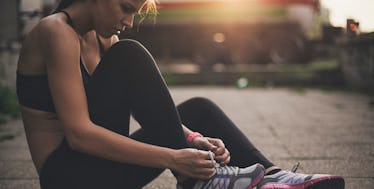 Fitspiration: The Gear You Need To Reach Your Personal Fitness Goals
There are two reasons to look forward to hitting up the gym: the hot, sweaty trainers and the spandex. It should almost be illegal. I mean, does anyone actually go to the gym and not check people out? Anyone? Crickets.
If you're the type to want to get a sweat on or something weird like that, you need to be dressed and ready. Sorry, ladies, that old college hoodie is about as gym-ready as you are after a night taking shots off some male model's pecs.
Check out our handy fitness gear guide and thank us later.
For more product information, visit our Elite Daily Polyvore page.
Downward Dog
If you're about to hit the yoga mat, you want to be dressed in the tightest clothing you own. Now is not the time to be modest and attempt to hide your pre-gym food baby with a loose tank. If you're hitting up a Bikram class, opt for a fun sports bra. Everyone will see it eventually once you rip your shirt off like the Hulk.
I'm sure we're about to get some flack for this, but yoga is really not the place for your teeny-tiny skin-tight shorts. Girl, no one wants to see your cooch while you're crow posing all over the place. Invest in some proper yoga leggings, get some with mesh panels if you're worried about not showing enough skin, and go wild.
Dance Party On Wheels
We've yet to meet a cycling enthusiast that doesn't own enough neon to paint their own rainbow, so try a bright tank (one that's moisture-wicking is best, it'll keep you from sweating balls) and a pair of printed leggings. All black everything might extend to every place on the planet, but SoulCycle is definitely not on that list.
Also, consider a headband so your sweaty bangs don't give you forehead pimples.
Run Like The Wind, Bullseye
If you're on a death mission and want to go for a jog in this heat, that's on you. The pros always say to dress like it's 10 degrees warmer than it really is if you're planning to go running, so go for a sports bra that won't make the lady bits come flying out like frisbees and pair with your fave skintight shorts.
If you're hitting up a boardwalk or the pavement, be sure to spray on some SPF — skin cancer ain't cute on even the most toned booty.
Workin' It Out
If you're just planning to hit the gym, go for something that'll make you stand out from the lame sea of ratty high school t-shirts.
A printed pair of leggings and colorful kicks infuse some life into your getup. Grab a pair of chic headphones and a colorful water bottle because if you have to keep yourself hydrated, you might as well do it like a #girlboss.
Get Your Cardio On
If you're the kind of girl that works best in a high-energy class setting — be it Zumba or ModelFIT — you need clothes that look selfie-worthy just in case Taylor Swift shows up to class and wants to add you to her girl squad.
Get a sports bra that can double as a going-out top if need be and a graphic tank that's not super obnoxious. No old, ratty t-shirt from that company retreat for you: Tay-Tay wouldn't approve.