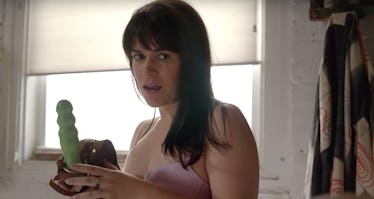 8 Answers To All The Pegging Questions You're Too Butt Hurt To Ask
Comedy Central
My girlfriends and I talk about sex as much as Drake raps about strippers.
Though we're all on the kinkier side of sexuality, when the topic of pegging popped up, they didn't even recognize the term. After I explained that pegging is when a woman penetrates a man anally while wearing a dildo, my girls immediately slammed the sex act.
The term "peg" originally comes from a 2001 poll run by Dan Savage, podcast host and LGBTQ activist. Although the label has become firmly entrenched in pop culture, the subject is pretty taboo.
Claire Cavanah, cofounder of sex shop Babeland, wants to help make people more sex-positive when it comes to gender-switching back door behavior.
"Sexual adventure really makes room for everybody," she explains. "Once people experience sex in a new way, it gives people an idea of how many ways you can receive and give pleasure, and it helps people understand that people are very different."
If there's a chance you might be into it, here's everything you want to know before taking the plunge.
1. How do I even broach the topic of pegging?
Having a serious chat about poking your partner takes courage. Don't just blurt it out after a blowjob.
Cavanah suggests taking the serious route, instead of goofing around. Talk about what you desire sexually in an earnest way, but not while you're in the throes of passion.
"Sit down and talk about it where there's not so much emotional vulnerability," she says.
Cavanah believes practicing the convo out loud with yourself or segueing from a flirty intro into a serious chat can also work well. Whether you sext it or leave a note on the fridge, make sure you're both on the same page before you peg.
2. If my guy likes pegging, is he gay?
Cavanah explains that if you're having sex with your boyfriend, no matter which act you choose, he's not having sex with a man. Therefore, no homosexuality.
"What you want and what you're doing is having sex with your man," Cavanah says.
3. What are the essentials for pegging?
The hardware is simple: a harness, a silicone dildo and lubricant. Cavanah suggests making the area as slippery as possible.
"You cannot do without it," she says. "Don't even try."
Beside the physical basics, you'll also need relaxation and communication. Venturing into new territory can be scary, and nerves will only make for a less pleasurable experience. Openly discussing what's about to go down will help put your partner (and his anus) at ease.
4. Which kind of strap-on should I use?
If this is you and your partner's first time, the dildo should be pretty slim to start. Then, once you both get used to it, increase the size.
Cavanah also suggests purchasing butt plugs to prep the sphincter muscle for entry.
"You may want to get a small and medium sized butt plug," she says. "The idea is to get the sphincter to relax around the plug in preparation of the dildo."
Be very kind and attentive to the anus because pegging, if not done properly, can be painful.
5. What position is best for pegging?
Entering from the back is best, according to Cavanah. Use a firm pillow, like a couch cushion, under your kneeling knees so you can enter from an angle that matches the rectum.
If you really want to get intimate, he can lay on his back in missionary position. Bring his knees up to make his anus more available for entry.
6. What satisfaction will I get from pegging?
Pegging is about as satisfying for women as a blowjob: You get pleasure by giving him what he wants. Since pegging is a dominating experience, it builds trust and can be a thrill.
If you're looking for clitoral stimulation, however, Cavanah suggests putting a vibrator between your clit and the harness for direct stimulation.
7. How messy will it be?
It's not hard to imagine poop will somehow be involved in pegging, but you needn't worry.
"It's unlikely that you'll run into very much poop," Cavanah says.
To keep everything extra clean, she suggests your partner take a warm shower and stick a wet finger into his rectum to gently clean out the area.
If you're cringing right now, you're not alone.
8. How do I clean up after pegging?
First of all, use easy-to-clean toys and wear a condom. After you've completed pegging, wash the dildo with warm water and soap. Wipe the leather harness clean with a wet, warm cloth.
Conversations surrounding sex should be open-minded, allowing what was once taboo to become ordinary. It just goes to show that men and women are loosening up.