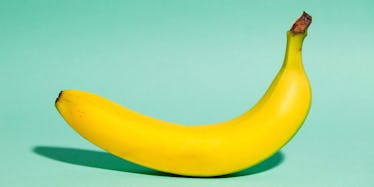 These Next-Level Blowjob Tips Will Seriously Up Your Oral Game
This past weekend, I sat at the center of a sex store surrounded by a chorus of women sucking on phallus-shaped fruit. Despite my better judgment, I licked the imaginary frenulum of a banana. I could hear my mother in my head saying, "Oh, dear God."
I was at Babeland's "The Art of the Blowjob" class, an advanced sex education course that involved yelling "c*ck!" as an icebreaker. I have to admit, I didn't expect to learn much when signing up for the two-hour class. I already knew a good amount about giving head, or at least I thought.
Boy, was I wrong.
When I got to the class, a banana, a fresh mint-flavored condom and a sheet of blowjob tips -- which included prostate stimulation and a tongue test -- rested on my chair. That's when I knew I was about to be blown away.
Our instructors gave off "Broad City" vibes, funny and shamelessly open about sex. That made sense, because they work with anal lube and dildos all day. The humor made it more comfortable to talk about licking perineums in a room full of strangers.
We started with the basics, like how to put a condom on a penis.
This was middle school stuff, but I welcomed the refresher course. Basically, you open the wrapper (not with your teeth!) and blow into the tip to ensure there aren't any holes.
What's interesting, however, is we were told to pour a drop of lube into the condom, then squeeze the tip as we rolled it down the shaft. Often, women rely solely on their own saliva to provide lubrication during oral sex. However, the use of store bought lube increases pleasure and minimizes discomfort. When a condom's involved, lube also eliminates friction and potential breaks.
After the safe sex portion of our chat, we learned licking variations by sticking our tongues out and saying "ah." It sounded silly, but it was informative. A soft, relaxed tongue reminds a man of a warm, gentle vagina. On the other hand, a hard, pointed tongue highly arouses sensitive areas of the penis like the frenulum, the tissue that connects the head to the rest of the penis.
As soon as they whipped out a dildo to demonstrate a "hearty stroke," I almost had one.
To give a hand job, you need to step into a man's shoes, so to speak. Allow your partner to masturbate, then squirt lube on your hand. Once you're greased up, replace his hand with yours and mimic his motions, from simple up-and-down to a few light tug-and-twist movements.
Before this class, I had underestimated the power of a simple hand job, dismissing it as a juvenile act best performed under high-school bleachers during track practice. These instructors taught us how many sensations a firm grip can create.
Take, for instance, the two-handed move they named "texting." We weaved our fingers together around the penis and placed thumbs over the imaginary frenulum. We simulated the nerve-filled area with light taps from our thumbs, like typing on an iPhone keyboard.
Add your mouth to the party by licking the tip of the penis as you "text." Or, you can alternate between sticking the entire head in your mouth and "texting."
Next, we practiced the "figure eight," where you start at the underside of the shaft at the base, licking a figure eight up and over the penis. Your best bet is to make it as wet and sloppy as possible, using soft tongue motions.
Then, we practiced deep throating without gagging.
The secret to deep throating a banana-sized penis is making sure your mouth and throat are in a straight line. Keep from gagging by performing the act doggy style, partner facing you with his penis at mouth level. As you bring your head upward to perform oral sex, your mouth and throat automatically align, allowing access deeper down your throat.
As you can imagine, our instructors stressed the importance of relaxing as you inch toward your pornstar-worthy, Linda Lovelace goal.
"Don't expect your body to perform like a pornstar's," one instructor warned. "Warm up and slowly adjust your throat around the penis."
It was sort of weird to spend so much time practicing intense hand strokes and tongue flicks without reward. Most of the fun of performing oral sex is making your partner cum, but I was just stuffing a banana down my throat.
We started talking butt play, which left me feeling like I had a sex IQ of five.
Using the thumb side of her closed fist, one of our instructors demonstrated how to delicately place a finger into your partner's anus during oral sex. First, she mimed stimulating the external sphincter with a light circular motion and a lot of lube. Then, she slowly pushed her finger into the mock anal canal, reminding us that playing with his balls a bit makes for an easier entrance.
Once you're in, she recommended we "hang out there for a little while" and resume the blowjob until the internal sphincter, which the instructor jokingly likened to "Mariah Carey's diva ways," is good and ready to open up.
As our instructors closed out the class, they reminded us of a few guidelines to keep in mind: No is a complete sentence, slowing down foreplay helps you enjoy the moment and building a sex menu -- a list of activities you'd consider trying -- leads to a sex-positive life.
I walked away feeling like I'd learned the major keys to keeping my man satisfied down under. Aside from a wet foundation and keeping teeth out of the equation, it's all about keeping constant motion and continuous rhythm.
Once class dismissed, I sent a few friends the blowjob tips I'd learned. We all agreed to put them to the test and circle back about the results.
I haven't gotten a chance to road test what I learned yet, but let's just say I passionately and enthusiastically ate that banana for breakfast the next morning.