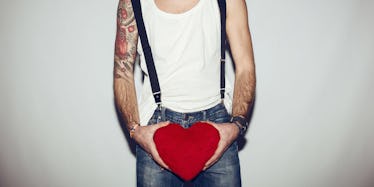 8 Important Things To Remember If You're Too Scared To Give A Blowjob
The very first time I put my mouth on a penis, I was petrified.
My breath became jagged with both anticipation and arousal, but I couldn't shake the fear of f*cking it up.
From my experience, a girl who can't give great head might as well be an all-around sex dud. Imagine the pressure I felt to perform well.
Though the guy I was sleeping with would respect me even if I sucked at sucking him off, I couldn't quiet my spiraling self-consciousness.
Where do I put my hands? Will I gag on this thing? Is he even gonna cum?
After several licks, hand strokes and a bit of ball juggling, his body jerked in appreciation.
We all know a man's orgasm is a banner moment for your self-esteem. It's a sign you're doing something right.
Still, I wasn't entirely confident in my fellatio skills. Had I used my teeth? Did I pay enough attention to his testicles?
My first rodeo downtown was a success, I guess. Still, I wanted to be better. I wanted to enjoy the beloved act so much it'd feel slightly scandalous.
Now, I've had enough tongue-to-tip experience to assure you you're just psyching yourself out.
You actually have nothing to worry about.
Commit and pay attention.
Women Draw Their Perfect PenisHow much does size matter?...Subscribe for more videos: http://goo.gl/uGsJCZ Posted by Elite Daily on Tuesday, April 14, 2015
It's cool to give a f*ck about some things, and blowjobs are one of them.
There's nothing worse than half-assing while pleasuring your man. Would you want him disrespecting your clitoris with mediocre cunnilingus?
Give his meat your undivided attention.
It could work in your favor, too. A study from State University of New York, Albany, found women who go down on their partners are happier and less depressed than those who decline.
Don't focus on how fast you can make him cum. Instead, enjoy the intimate moment with your partner.
Not sure how you're performing? Watch a man's face while your mouth's on his manhood to gauge whether you're headed in the right direction.
If you think you'll suck, you will.
Stop convincing yourself you won't be great at giving head.
Do you think Olympians stimulate themselves with self-deprecating speech before a competition?
Throw on a sexy Beyoncé song or employ all of those empowering career quotes you read before a big interview.
Do whatever it takes to take the reins with confidence.
Remember, you're in control.
Watch porn and practice.
How can you be a student if you've never had a teacher?
I had to review plenty of porn clips well before bedroom play to ensure I knew how it was done. When it came time to crouch down and put his manhood in my mouth, I mimicked those moves.
We've all been perfecting our oral sex skills with every popsicle and Tootsie Pop we've encountered, so don't worry too much about whether it's possible to be good or not.
Also, don't be ashamed to take classes or buy a few cucumbers for at-home rehearsals.
To master the art of fellatio, you need to consult the professionals.
Just like when you made out with your mirror before your first kiss, you've got to practice going down before you actually do it.
You don't have to be a porn star.
It's almost laughable when I try to be sexy while doing anything. And, to be honest, men aren't looking for a Lacey Duvalle in the bedroom.
They just want you to really enjoy it as much as you claim to.
Though you should strive to make your blowjob as pleasurable as possible, don't try any PornHub tricks you're not even sure he'll like.
Porn stars are professionals and you're only a rookie (for now).
Keep a pace you'll both appreciate.
Take the scenic route.
Listen, moving too swiftly toward his package just might scare him.
You're not trying to devour him, but you are about to provide an unforgettable experience. So, make him wait for it.
Whether it's kisses all over his chest or a little anal foreplay, build anticipation beforehand.
Also, this will give you some time to get your head in the game, if you're still worried.
Don't let your mouth do all the work.
This may be an oral exercise, but your hands play a starring role.
Use your hands in tandem with your jaw muscles to create a warm cocoon he'll want to keep revisiting.
You won't choke.
Does Size Really Matter?How much does size really matter?... Posted by Elite Daily Video on Wednesday, June 10, 2015
Admittedly, I thought I would throw up my first time giving head.
But, the guy's penis is a safe enough distance from the back of your throat to keep you from gagging. Unless you're into that.
As long as you don't rush, don't worry about losing breath.
Swallowing isn't mandatory.
There's a general misconception that giving great head means swallowing his sperm. Really, there's no handbook listing official blowjob guidelines.
If you're not keen on gulping down, save that step for later.
If you dare to swallow his juices, however, it could work in your favor. Semen is actually made up of over 200 separate proteins, as well as a ton of vitamins and minerals, including vitamin C, calcium and vitamin B12.
As long as the head is A1, he won't care either way.