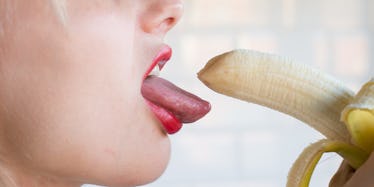 It Isn't A Race 53 Things Guys Wish Girls Knew About Blowjobs
Shutterstock
Let's be mature here: Sex is a part of life, and blowjobs are a part of sex.
Therefore, following the laws of propositional logic, blowjobs, too, are a part of life -- and a vital one at that.
In order for any relationship to last, it's imperative to constantly shake things up so that the once magical things don't become mundane; sex is no exception to this rule.
It's important to try new things in the sheets, as well as outside the bedroom, to keep the spontaneity alive.
Remember: Spontaneity is always key to any long-lasting relationship.
And frankly, nothing screams sexual spontaneity like everyone's timeless favorite, the blowjob.
Nothing says, "I love you," in a pinch like some good old-fashioned oral sex.
I mean, blowjobs are essentially the sexual equivalent of Go-Gurts: They're satisfying.
They're convenient, and they also almost always result in a little mess -- in and around the upper lip. So they surely shouldn't fall by the wayside within your relationship.
If your girl isn't one for handing them out (I use the term "handing out" here, loosely), perhaps vocalize your enthusiasm on the subject -- but make sure you do it right and respectfully because we all saw "I Love You Man" and have witnessed the consequence of poor execution.
Ask, and you might receive, but having your best friend ask for you over a toast -- at an engagement dinner -- usually won't end with open arms, mouths and fellatio.
But if you broach the subject like an adult -- or a sad puppy -- you'll seemingly watch your chances double.
If you're a girl with some concern regarding the subject, I've attached some FAQs and things to know.
Disclaimer: The following list comes from a hodgepodge of sexual history, sexual commentary and stories told over brunch, so if you're not a sexually-charged Millennial -- or if you're one of my parents/nuclear family members -- please don't read any further (and if you're feeling daring, try not to take it too seriously).
1. We'll compensate (this isn't the mafia).
2. What you put in, you'll most likely get out (figuratively speaking).
3. The tongue is a weapon.
4. And a tongue ring is like a revolver with a pearl handle.
5. Be careful if you've got one of those industrial type of piercings though; I feel like they could do some real damage at the wrong angle.
6. You never can have too much lubrication.
7. Well, until there's too much lubrication.
8. Certain food products can double as lubrication (typically sweets like chocolate syrup or whipped cream, but I've met a few women who will LITERALLY put sriracha on everything).
9. Teeth are better for smiling.
10. I mean, yeah, chomping anything for that matter will usually result in pain not pleasure (AS A GENERAL RULE).
11. Be respectful; you're dealing with our manhood.
12. We notice facial expressions with extreme keenness.
13. Even small ones (and eye rolls).
14. And a little eye contact can go a long way.
15. We appreciate the gag reflex.
16. But we have supreme appreciation for the girl without one.
17. Hands can be a handy tool (but not exclusively, this isn't the back of the movie theater!)
18. But, still, consider the hand-to-mouth ratio.
19. Don't neglect the whole package, so to speak.
20. Blue balls are real.
21. They don't actually turn blue, though.
22. Well, maybe a bluish hue.
23. There are combo moves with which you can get creative.
24. But not too creative. Remember: it is, after all, a body part.
25. We may say our ABC's when we go down on you, so it probably wouldn't be the worst idea to try humming them.
26. We'll usually tap out prior to ejecting.
27. Unless you're into surprises.
28. And you know what they say about spitting in the wind (I mean, there's a box fan by the window).
29. [Insert sexually-ambiguous idiom about swallowing]
30. The whole process of kissing afterward is kind of awkward for all parties involved.
31. It's best to call a quick bathroom timeout prior to engaging in any further sexual conquests.
32. Yeah, there's toothpaste under the sink.
33. There are actually foods that make the uhhh, you know, taste better.
34. No, not the penis itself but the fluid, if you will.
35. Pineapple is one of them.
36. Yeah, we'll pick some up after work.
37. Organic? Maybe if you want to pay the difference.
38. Oh please, Whole Foods at this hour is f*cking mayhem.
39. And I've actually heard curry does the same, but, yeah, not sure if that's your favorite flavor.
40. I mean, personally, I think you should try some Indian food before you make any definitive call on the matter – tikka masala actually isn't too bad.
41. Unlike debt and quicksand, the deeper you go, the better.
42. Go on and get messy witcha bad self!
43. Hell, there are some towels in the closet!!
44. Yeah, I mean, I just cleaned these sheets -- let me just grab those towels from the closet.
45. Communication isn't just exclusive to the boring parts of our relationship.
46. You've got questions; we've got answers.
47. But remember: Ask no questions, hear no lies.
48. Be gentle.
49. Yet aggressive.
50. But gentle.
51. And, at the end of the day, we love you regardless.
52. Unless you bite off more than you can chew.
53. And, that, I mean literally.