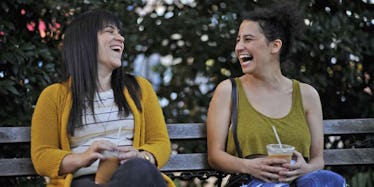 Yas Kween! 9 Conversations You Have With Your BFF As Told By 'Broad City'
Comedy Central
Talking to a longtime best friend is like taking off your bra at the end of a long day -- it's freeing, relaxing and finally a chance to let loose.
Your conversations together are honest and often truly disgusting. She's not about to judge you for a drunken hookup story because she has quite a few tales of her own.
In the history of television, no show has depicted the girl-on-girl love affair of best friendship as accurately as Comedy Central's "Broad City." In the long gap between seasons two and three, we find ourselves pining for the antics of Abbi and Ilana.
These two bring a no-holds-barred dynamic to their on-screen friendship. With two brains instead of one, they tackle NYC adventures and painfully dry day jobs.
"Broad City" understands the conversations of best friendship freakishly well, and we've got proof.
The "I hate that you have other friends" talk.
When she's not with you, your best friend probably has a second-rate group of pals she spends time with. You don't have to like it, but you do have to let her continue to socialize.
Let her recap the night, while you pretend you're not seething with green-eyed jealousy. You may wonder if they know her as well as you do. (Spoiler alert: of course they don't.)
The "My boyfriend wants to try kinky sh*t" talk.
The moment of truth and experimentation comes in all relationships. For Abbi, it was in the form of a customized Japanese dildo. Naturally, her first instinct was to phone Ilana in a panic.
Here's the deal, your BFF knows you through and through. So when your brain completely flatlines, she's there to guide you in a reasonable course of action you probably could've decided on yourself, had you not been freaking out.
The "Your mom is commenting on my love life again" talk.
Since you're closer to your best friend than say, your actual, biological sisters, your BFF's mom considers you a second child. She knows about every single man you've dated, not to mention the time you got that terrible bikini wax.
But when she starts expressing opinions about your romantic life, it's time to set your best friend straight.
The "You look so pretty, seriously" talk.
By this point, you've seen your BFF naked from almost every vantage point. Just think of it as "knowing her angles."
It's an official best friend duty to remind her she's a keeper, particularly on special occasions. Make like Abbi and Ilana and be each other's cheerleaders. You'd hit that, theoretically.
The "I don't know if I'm a hookup or girlfriend" talk.
Your best friend is practically a licensed therapist at this point. So when your potential soul mate gives you mixed singles, you'll always turn to her.
Just like Ilana uses Abbi to sort out her Lincoln situation, a resolution to the "what are we?" conversation is as simple as phoning your BFF when you're tipsy.
The "Mutually hating people, but silently" talk.
The cast of a community play you accidentally did five years ago is annoying, as is anyone from high school. If they dare to interrupt your very precious private best friend time, you're guaranteed to shoot each other the death stare.
That's the beautiful thing about best friendship. You're always on the same mental wavelength, especially about people you hate.
The "I Internet stalked your boss and found something weird" talk.
She tells you about her coworkers and horrible boss every week, so it's only right you have the privilege of Facebook stalking them.
Like Ilana, you might have a good chance of uncovering a salacious detail (or porn career) that will make your best friend's day.
The "We're broke b*tches" talk.
You're both 20-somethings with entry level jobs, so there's no way you have any extra money. Instead of burning through the month's grocery budget at an expensive brunch, the pair of you decide to respect each other's meager earnings and only do things for free.
Real BFFs stick by each other's side for richer or poorer. Mostly poorer, though.
The "You're being disgusting, but I'll still take care of you" talk.
Sometimes, you catch yourself wondering if anyone will ever tolerate your puking, sick self the way Mom used to.
Best friends are the chicken noodle soup-makers of adult life. You two are so used to seeing each other do unflattering things that wisdom teeth removal and drunken vomit is no big deal. This is unconditional love.