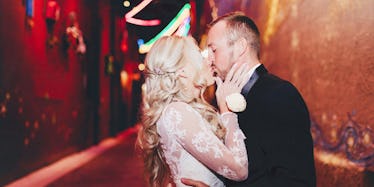 What Your Zodiac Sign Says About The Type Of Wedding You Should Have
Whether you believe in the zodiac or not, you have to admit it's accurate.
We turn to it for when we start our day, when we meet someone new. We use it to try to make sense of the future, attempting to figure out what's in the stars for professional, personal and, yes, even our love lives.
If we rely on zodiacs for nearly every crucial decision, why not use it to help indicate what's supposed to be the most important day of our life?
If you're in the process of planning the day, or if you just want to daydream about what your dream wedding to John Stamos or Drake might look like, read on.
Aries (March 21 to April 19)
An Aries lady is known for her independent streak and headstrong personalities, which would make her super annoyed with people who are too in-her-face — namely, a wedding planner or an overbearing in-law.
You naturally don't go with the flow, so avoid usual wedding haunts, like a restaurant or beach. Stay away from pastel and blush tones — they're overdone — and veer toward jewel tones which can be just as romantic and sumptuous.
Lastly, try to DIY as much as you can! It'll give you full control over what ends up in your wedding, and will be a blast for your bridesmaids.
Taurus (April 20 to May 20)
Your collaborative nature can sometimes edge into indecisiveness, so your best bet would be allowing someone (either a wedding planner or a member of your family) take the reins on planning. Stick to airy tones, like soft cerulean blue and turquoise. They would be a great addition to your color scheme.
Gemini (May 21 to June 20)
Geminis are about good vibes and adaptability. They're the kind who don't balk at the thought of being thrust into an uncomfortable situation. As a result, they'd be all for a destination wedding.
An out of town wedding is a great direction for the Gemini girl, and she'll thrive in the intricate planning process of a far-away wedding.
The Gemini likes to keep up appearances, so stick to the tried-and-true wedding favorites to balance out the laid-back vibe. A princess-wedding dress and towering cake should do. You can't go wrong with the classics, right?
Cancer (June 21 to July 22)
Make sure your wedding is inherently "you." Tie in a family heirloom, personalize your dress a la Angelina Jolie and be sure the centerpieces were the result of a binge at Michael's.
Your strong sense of self means you're all about being in change, but be sure to listen to the opinions of others. They will need to talk you out of baking your own cake (or designing your own dress).
Leo (July 23 to August 22)
You're generous and family-oriented, which means your dream wedding needs to be a little closer to home. Namely, your actual home.
Keep it small with a chill backyard wedding, and maybe outsource the reception to a restaurant. If you need to get married in a place of worship, think about decorating your house for a warm, cozy reception. This day is all about family for you.
Virgo (August 23 to September 22)
Because of your attention to detail, you're not going to be comfortable in anything short of magnificent. You don't want to leave things up to chance, so an outdoors wedding won't work for you. A beautiful restaurant or nearby stately home, however, should do the trick.
Libra (September 23 to October 22)
Libra ladies are idealists to the core, which means their dream weddings are truly princess-worthy.
Your Pinterest boards are filled with castles, horse-drawn carriages and, duh, a Prince Charming to top it all off.
You're a romantic at heart, so be sure to stick to blush tones and rich fabrics both on the dress and at the venue. Don't get too carried away, though -- be sure to add a badass touch to your reception.
Scorpio (October 23 to November 21)
Stay away from old-school favorites, like roses and tulips, and go for calla lilies and orchids instead. A magnificent dress (with a long train to match) will ensure that all eyes are firmly on you. A dramatic backdrop -- cliffs, a forest, a magnificent hall -- will wow guests, too.
Sagittarius (November 22 to December 21)
Your enthusiasm and energy is contagious, but you need to know when to rein it in. If you don't, you'll forget something crucial.
Be sure to hire a planner to focus on the little details when you get bored with what color the centerpieces will be or which flowers will be in your bouquet.
Don't get too carried away with tradition. Stick to a relaxed, beachy wedding and plenty of earth tones to balance out the fire sign in you.
Capricorn (December 22 to January 19)
Be sure to direct your focus toward food and drink, as that's your number one priority at the wedding. Pay special attention to the cake and cuisine. Listen to the opinions of your friends and your groom, though -- they just might help get your out of your traditional shell.
Aquarius (January 20 to February 18)
The Aquarius is frank, which can be the recipe for a very no-frills wedding. Get out of your comfort zone (and your Pinterest boards) by drifting away from the simple wedding you've been concocting. Consider a rustic wedding that's a mix of traditional and dramatic.
Opt for a barn venue for your ceremony and keep the reception outdoors. Stick to a woodsy motif and soft tones for your wedding. No need for drama, girl.
Pisces (February 19 to March 20)
Nostalgia is the name of the game, so try having mementos from you and your boo's childhood as the centerpieces. Maybe even ask your favorite high school band to perform a song or two -- you know they'd be down.