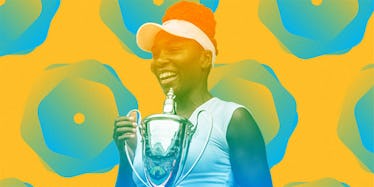 This Is What Venus Williams Has To Say About Juggling Two Successful Careers
Robert Rodriguez
We all know Venus Williams as a tennis superstar and four-time Olympic gold medalist. But you guys do know she has her own activewear line, right?
When she's not crushing it on the courts, she's been the force behind the scenes and in front of the camera for her activewear brand, EleVen. Williams has a degree in fashion from The Art Institute of Fort Lauderdale and wanted to make clothing that lets women feel confident, strong and express their individuality. Beyond tennis, this is how she can make the world a better place.
I can't even fathom the amount of work and dedication it takes her year after year to be a leading player in two completely different industries.
With each collection she produces, she aims to inspire and motivate women to confidently move their bodies in style, and the new Fall 2016 collection just launched. It's a collection of core basic pieces that you need every day, like the comfy black leggings we all live in.
I had the chance to speak to her this week, and she gave me the inside scoop about how she masters it all. We talked about her new line, and she gave me some of the most down to earth career advice.
Williams has two successful careers, and it's hard to wrap my mind around how she can be so heavily involved in both. She doesn't take the back seat on any decisions at EleVen.
I picked her brain about juggling her two passions, and let me tell you: She knows her stuff.
When it comes to managing her careers in both tennis and fashion she said,
It's definitely a balancing act. But it's a lot more interesting. You have to love both [careers]. I have a good team, too, which helps. I couldn't do it without them.
Williams has an interesting mindset about her two careers. Even though she focuses so much on it currently, she sees fashion as a "backup." She knows, realistically, that tennis isn't something she can do forever. But she'll always be able to continue to contribute to women's lives with EleVen.
She's obviously someone who thinks ahead. She has a tried and true formula to share with women who are looking to go their own way in their careers:
I always tell people to do something they love and can make money at. You have to love it, and it has to pay the bills, too.
None of her success happened without hours upon hours of hard work. Williams has to grind it out 24/7, but she manages to find some time to kick back. Little known fact about this tennis star? She LOVES karaoke. (You can check out her go-to karaoke songs here.)
But she told me her personal life is dominated by her two careers. She's really hands on at EleVen, involving herself heavily with the design and production process.
I asked her about what influences her designs, and she explained she wants to create what she would wear herself. She said,
I just want to know I can keep it in my closet forever and that it will still look good in 10 years. I want to make something so wonderful that my customers will buy two because they can't live without it.
What really drives and influences her is the concept of "being EleVen." She explained,
Being EleVen is about reaching your personal best and going past 10; 10 is not enough. You have to bring more out of yourself. We want to make lives better and create a healthier world. That's our mission at EleVen.
Obviously, Williams' go-hard-or-go-home attitude is a huge part of her life, both on and off the court. Her little sister, Serena Williams, also makes waves in fashion, but she told me the two are less competitive in that industry.
Williams aims to communicate an important message to women everywhere about health and fitness through EleVen.
Her passion for this line and for its overall message was clear when she said,
If you're taking care of yourself, you can give more to the world.
EleVen highly values health and wellness. Venus wants women to balance health with fun. She says it's OK if you can't be healthy every day and not to put too much pressure on yourself. You have to live your life and do what you enjoy, too. For Williams, working hard most of the time and kicking back a little bit of the time is part of the 80/20 mentality that she and so many other strong women apply to their lifestyles and diets.
If you're taking care of yourself, you can give more to the world.
She proves to us all that you don't have to pigeonhole yourself into one passion. Even if your passions don't overlap, if you can find a way to build success from them, go for it.