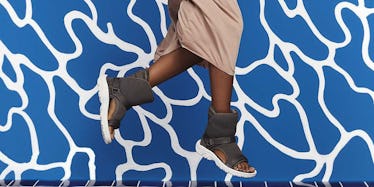 These Sandals Are Half-Ugg, Half-Teva And They're Apparently In Style
Deckers Outdoor Corporation
Imagine you have a dog. It's one of those fancy mixed breeds, a mixture of two cute things that somehow make a mish-mashed third.
Take the cockapoo. It's genetic scrambled eggs, a mix of cocker spaniel and poodle. Breeding those two dogs together gets you a literal teddy bear of a dog. It's one so cute that it's in demand all over the world.
But what if you could take that formula and somehow flip it upside down and backwards? Two controversial things make an even more controversial third, and everybody has an opinion.
This is the world we're living in, folks.
Teva sandals and Ugg boots have somehow merged, becoming a sandal-boot combo that quite honestly has me at a loss for words. This has to be peak dressing comfortably, that's for sure.
Women's Wear Daily reports the two brands are properties of the same company, Deckers Brands, which makes the fashion collaboration understandable. What's not quite as easy to explain, however, is why they've gone with this particular design.
The Teva x Ugg sandals (there's a boot-sandal version, too) have the general shape of a Teva. Everywhere a strap touches your foot, however, has been lined with heavenly sheepskin.
It's like party on the outside, pajamas on the inside. And in the era of editors wearing silk pajamas to fashion shows, I'm willing to bet they'll sell out.
I'm just trying to figure out the ideal situation in which a person needs their toes to be cold, but ankles and lower calves to be warm.
Maybe you're out at night in Miami, but hoping to dip just your toes in the water? What if you got a pedicure in the winter, and you're waiting for the polish to dry?
If you're looking for a stylish place to put your toes, it'll cost you the footwear equivalent of a fancy mattress. The Teva x Ugg sandals, available for purchase now, sell for $175.
More of a boot person? That brings the total to $225.
Start saving your pennies now. Just don't complain to me when your toes freeze off.
Citations: Teva and Ugg Team Up on Hybrid Styles (WWD)