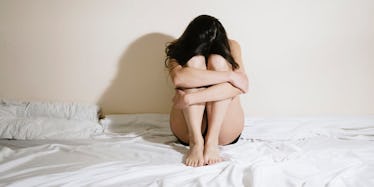 Australian Magazine Deviates From The Norm And Shows Us What Beauty Really Looks Like
In a society where media directed at women is saturated with images of idealized beauty and even the world's top models are airbrushed on magazine pages.
The most recent cover of Australia's highest-selling women's magazine featured what I believe to be one of the most important representations of female beauty in our time.
It showcases a beauty that forces you to look deeper and really get to know the remarkable young woman who graces the cover.
Three years ago, Turia Pitt was a beautiful, healthy and fit 20-something who had the world at her feet. She had dabbled in modeling and was dedicating her time to charity work.
Her adventurous nature took her to the outback of Western Australia to compete in the 100-kilometer Kimberly Ultramarathon.
On the day, race organizers were warned about a grassfire, but carelessly went ahead with the event, anyway. A sudden wind change during the marathon trapped Turia and fellow competitor, Kate Sanderson, in the fire.
Tragically, the fire burned both so severely that it's miraculous they even survived.
After 864 days in the hospital, over 100 surgeries, amputations and extensive rehabilitation, Turia defied the odds. First, she began to walk again and then, she started running.
In the past six months, she has ridden a bicycle from Sydney to Uluru, swam a 12-mile race in Western Australia's Lake Argyle and walked the Great Wall of China – all to raise funds for the reconstructive surgery charity, Interplast.
And, she did it all with the constant pain and trauma of burns covering 65 percent of her body.
In the past three years, rather than giving in to this seemingly impossible challenge, Turia spent her time courageously speaking out and inspiring so many who are fortunate enough to witness her brave journey to reclaim her life.
This cover of Australian Women's Weekly is iconic. It sends a clear message that beauty means so much more than what we're typically led to believe through the hundreds of images of "perfect" women that we see every day.
Turia was photographed as part of the magazine's Women of the Future judging panel.
She was considered for the cover alongside other notable Australian women, including former Miss Universe Jennifer Hawkins, TV personality Lisa Wilkinson and actress Rachel Griffiths.
Editor Helen McCabe said,
For 80 years, the Women's Weekly has been celebrating inspirational Australian women. When Turia was photographed as part of our Women of the Future judging panel among a group of similarly impressive Australian women, it was clear from the moment she sat in front of the camera that the July cover had to belong to her.
Turia's scars are a constant reminder of that horrific day, but she doesn't let them define her. Instead, she bravely takes on each day with positivity, a sense of acceptance and a remarkably strong will to make the most of life and live by the motto, "Never give up."
"Being on the cover of The Australian Women's Weekly is a huge honor," Turia said. "I feel very humbled."
So, thank you, Turia. Thank you for being brave enough to not only go on, despite what you've faced, but for doing it with confidence, grace and so much courage.
Thank you for being such a bright example for young women who will walk past magazine stands this month and finally see what beauty really looks like.