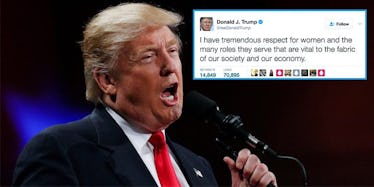 Trump Praised Women's Day, And The Internet Reminded Him Of His Sexist Past
REX/Shutterstock
I haven't been able to change my Facebook profile picture.
It's a photo of a quote from the president of the United States of America.
We're taught to believe that a presidential quote is something of nobility. In elementary school, we spent our days staring at laminated posters of the 44 presidents. We stared at their portraits, and studied history based on their accomplishments.
But my particular presidential quote isn't about honor, civil rights, humility or strength.
It's about grabbing women by the pussy.
More than that, it's about a country that decided speaking about women this way was OK, and about electing a man over a woman with years of political experience.
Today Donald Trump tweeted about International Women's Day. It went as you might imagine -- wait, I realize you probably imagined him saying something insane, since I said Trump and Twitter in the same sentence.
I'll just let the tweet speak for itself.
Trump started off his nod to women's day by talking about himself:
In response, Twitter erupted.
People began posting Trump's own quotes about women, in an effort to show how little respect he has for them.
And as a man who's been in Hollywood for years who genuinely believes women can be "grabbed by the pussy," there was no shortage of material.
Trump eventually got to the point with honoring women's day, but it was already too late.
Some recalled the way Trump spoke of women being ranked in regard to their breast size.
Who could forget when Trump said the only way to treat women was "like shit?"
Trump's self-admitted chauvinist attitude was remembered.
Of course, this conversation can't be had without remembering the multiple women who have accused Trump of sexual assault.
It's definitely sad that we don't currently have a feminist president, but the truth is, we don't need Donald Trump to celebrate the meaning of International Women's Day.
Women have been taking matters into their own hands for centuries now, and as evidenced by the millions who participated in the Women's March on Washington, and the insane amount of grassroots organizing to stop Trump's racist and bigoted policies, Trump doesn't really stand a chance against the power of women.
Which, come to think of it, is probably why he spends so much time putting them down.
He might never match his strength to that of a woman.