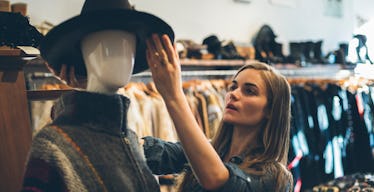 The Absolute Must-Have Festival Fashion Fixtures For This Summer
Stocksy
Please let next year be the festival season when people stop wearing headdresses and firing their bandmates for speaking out against it.
What is festival fashion? Clothes no one would wear in real life, but that you need in order to look like all the other people you're going to a festival with.
You don't want to stand out, so it's way better to get the flowing blouse or graphic tee that the rest of the people there will have on. But how do you make sure you have the clothes everyone else does?
Don't worry, online clothing stores have got you covered with "festival fashion" sections so you don't have to think about it at all. Now you can see them here, and then go buy them. Have fun!
Clever Message Tank Top
Girl, you need this. You're so apathetic, but nothing lets the world know that like a $40 tank top with a sardonic message on it.
Remember back when you cared? Lol, so naive. Prove you care less than anyone right now with this essential festival fashion item.
Pajamas
Create the illusion that you just rolled out of bed in 1963, and this is just the way you look. Every day is a new adventure, one that doesn't require changing out of your $147 pajamas, because you never know when you might have to go back to sleep. Stay prepared.
Anachronistic Mish Mosh
Combine all previous decades of festivals into an aesthetic and chronological disaster. More frays! More "vintage" band t-shirts! Forever!
Yes
Here is festival fashion we can all agree should never die.
Flower Crown
The look on her face says it all. If you don't have a flower crown, don't leave the house. This is the best $22 you could ever spend.
Kimono
People aren't going to confine themselves to their Starbucks Native American outfits. Not when there are so many other cultures to rape and pillage. Case in point: Buy this Kimono.
Flower Sports Bra
This bra came from the garden of all earthly delights. Look at that smirk. She knows she's the darling of the festival. Don't worry, you can buy the full suit, too; they've got you covered.
Flower Romper
Flowers are the international symbol of big business. Get you some.
That Hat Doe
"Becca, it's Veronica I'm hanging at the derby. Yeah, all these other bitches acting like they haven't heard of me!"
Don't be left behind. Wear your festival fashions with pride, or die.
via Nasty Gal