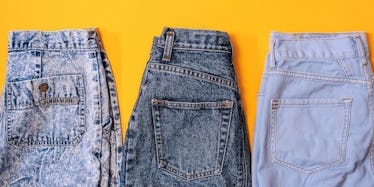 The 5 Best Fashion Items From Each Decade You Should Be Wearing Now
We Millennials are the most gifted of all the fashion generations. Why?
Because we don't just follow the trends; we recreate them. We are the first to take styles from past decades and rock them all at the same time.
They say this is the summer of the 70s, but why stop there?
Just like any classic movie-loving cinephile, a well-rounded fashionista knows each decade has great material for inspiration.
Midi skirts are practically the new poodle skirt; frayed jean shorts are fringe's updated counterpart and flared jeans are the skinnies' older sister.
If these comparisons sound like absolutely gibberish, don't get your high-waisted shorts into a twist.
We've got it all laid out for you. Here are the vintage fashion trends Millennials are bringing back today.
1950s High-Waisted Shorts
Why they work: The high-waisted short is a flattering bottom that adds shape to the waist (and conceals those love handles!). It's perfect if you're looking to give your bottom half an "hourglass" look.
What to wear with them: Pair them with a crop top or a bodysuit. Wearing a crop top will give you the opportunity to bear slight midriff without going all the way, while a bodysuit is a top you wont have to constantly worry about tucking in.
What not to do: Refrain from buying a pair in your exact size. Try going a size bigger so your shorts don't get a case of the munchies — AKA eating your crotch.
1960s Shift Dress
Why it works: The shape of the shift dress is as simple and timeless as can be. It can be both dressy and casual.
What to wear with it: You want to keep it simple when it comes to a shift dress. Try pairing it with a bold pair of tights and white shoes, or your favorite statement necklace.
What not to do: Shifts come in all colors and patterns, which means you should be conscious about doing too much. These dresses are meant to be simple, don't overdo the easy canvas with too many accessories.
1970s Bell Bottoms
Why they work: Bell bottoms are a statement of their own and give any outfit just a little more flair.
What to wear with them: Try playing up the look with a loose-flowing top or a t-shirt, along with a pair of cowgirl boots. Throw on a statement belt to complete the ensemble.
What not to do: Be conscious of how long/wide your bell bottom is. You don't want your precious denim dragging all over concrete. Wearing the right shoe is key to leveling your flares.
1980s Denim Jacket
Why it works: Denim jackets can be worn with almost anything. Owning a good denim jacket is like finding a favorite bottle of wine -- you'll always reach for it.
What to wear with it: Denim jackets pair nicely with anything from leggings to sundresses.
What not to do: If you choose to wear denim on denim, make sure each item goes with one another. Denims that are too similar in color read ill-fitting jumpsuit.
1990s Crop Top
Why they work: When paired with the right bottoms, crop tops are universally flattering. Plus, they create an interesting silhouette beyond the basic camisole.
What to wear with them: Pair any crop top with a high-waisted skirt, short or pant. Bellybuttons are for the beach.
What not to do: Crop tops can be easily read as distasteful. Make sure that when you're rocking one, you don't just throw it on with anything. It's best to wear a crop top with more modest bottoms.