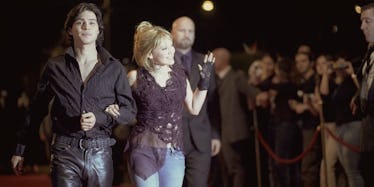 #TBT: The Beauty Products Our Middle School Selves Couldn't Live Without
Disney
The early 2000s were simpler times. We still found sitcoms with laugh tracks funny and aspired to live in New York City Soho lofts in our 20s.
Whether your inspo came from "Sabrina the Teenage Witch" or "Lizzie McGuire," it wasn't just a knack for snappy comebacks or confidently friend zoning Gordo that made you admire them.
The 2000s — and the years that followed — represented a style best described as "doing it all." Lizzie and her friends rocked butterfly clips, secured braids with mini ponytail holders and sported every single choker they could get their blue manicured nails on.
We're adults with full-fledged careers now, but we just can't shake the memory of being middle schoolers in the early years of the new millennium. With lips sticky with gloss we stole from our older sisters, we danced our hearts out to Backstreet Boys and begged our moms for Hit Clips players.
Following the grimness of 90s grunge, 00s beauty -- with its slick and shine -- seemed so innovative at the time, we couldn't help but get excited.
A hairdo was never complete without a clip.
Today, we wouldn't be caught dead wearing so much as a pink hairband. But back in the day, our strands were blessed by many an accessory.
Whether we pinned back small twists of hair with glittery butterfly clips, scraped our scalps with bungee headbands or pulled them back with banana clips, our colorful hair arsenals helped us stay stylish throughout the school day.
Styling our hair was time-consuming.
In the year 2000, it seemed as if every starlet had platinum blonde locks. Our moms weren't about to let us buy real hair dye, so we had to settle for vaguely orange stripes wrought by spritzes from our Sun In bottles.
With our color done, we stepped into the shower with our original Herbal Essences, (clear bottles only) and finished off the style with a scrunch of LA Looks hair gel.
Hold the butterfly clips, please. This look is more Mary Kate than Ashley.
We bedazzled and painted anything that would stand still.
Coco Chanel famously advocated taking one accessory off before leaving the house. But Zenon, girl of the twenty-first century, never saw a metallic belt she didn't adore. This was especially evident in her 2001 "Zequel."
We picked our most realistic-looking earrings from a sticker sheet, layered on baby blue Hardy Candy polish and hit the town.
By "hit the town," we mean we sat down for bake-at-home pizza with a gaggle of besties and Overdosed on sugar.
Body lotion took a surprisingly edible turn.
Our childhood selves were slightly confused about the purpose of body lotion. We weren't yet old enough to worry about parched winter skin or wrinkles, so it mainly served as a hobby.
During slumber parties, we'd taste test Jessica Simpson's edible body lotion, spritzed on watery scented sprays or smeared on some glittery blueberry-scented concoctions.
Effective? Probably not, but it occupied our hands while viewing "What A Girl Wants" pretending to be Amanda Bynes (pre-Twitter).
We puckered up for a dozen different glosses.
Blame Paris Hilton or Mandy Moore, but mouths resembling sugar-coated pink doughnuts were all the rage in the early 2000s.
Middle school status was solely based on the tube we pulled out of our bags between classes, with Bonne Bell and Juicy Tubes fighting for the lead. Sticky with gloss, we felt alluring to any boys who stopped spiking their hair with gel long enough to talk to us.
The only caveat: We ended up eating about a pound of product every day. It was more filling than Dunkaroos, at least.
When it came to hair, more was always better.
By 2000, "Boy Meets World" had ended. But Topanga and her long, crimped mane inspired an entirely new generation of stars to follow suit.
Whether we crimped, braided or wrapped our hair in multicolored string, doing without just wasn't in our vocabulary. Long before Mom ever gave in to incessant Christmas list requests for a flat iron, we made do with worthy substitutes.