Halloween is the perfect time to dress up as the thing you love the most. This can be a range of things such as your all-time idol, Beyoncé, or your favorite meal — SUSHI!
These sushi Halloween costumes make the perfect group costume for any squad + they are so easy to make! You know what that means? Procrastinators — this post is for you! Time to round up all the supplies, order a boatload of sushi and get your friends together to DIY the best group costume of all time.
Materials: - bed pillow - orange and black cotton fabric - green and black tulle - white fabric paint - green shower loofah - green paper - green spray paint - foam batting - white yarn
Tools: - hot glue gun - paint brush - fabric scissors
How to make cucumber sticks
We used some extra foam batting that we had lying around from a previous DIY, but if you don't have foam you could create the same effect with long rolls of paper. Spray paint the foam green and then cut it into long rectangular strips.
How to make a shrimp costume
Grab an old bed pillow, then cut out a piece of orange fabric that is large enough to wrap around the pillow. (If you have an orange pillow case, that will work too.) Wrap the pillow like a present and secure the fabric with hot glue. Use the yarn to section off the two bottom corners of the pillow to turn them into a fish tail.
Use white fabric paint to add some scalloped detailing (scales) to your piece of fish.
How to make a wasabi hat
Fringe some green paper and roll it into a cylindrical shape. Tie the shower loofah onto a headband and then glue the green fringe to the backside.
Real wasabi might be way too hot for you, but this wasabi hat is just hot enough.
Time to assemble your sushi roll! Dress in all white (you are the rice!). Hold the pillow to your back as a friend helps wrap you in black fabric. Attach the fabric to itself using hot glue. Give your seaweed wrap some more texture by adding a layer of black and green tulle. Attach the tulle with hot glue or safety pins. Slide in your cucumber strips and that's it!
Pair with a fun set of heels and you are ready for the night. I mean, COME ON! Could this be any cuter? (Absolutely not.)
Check out that shrimp tail.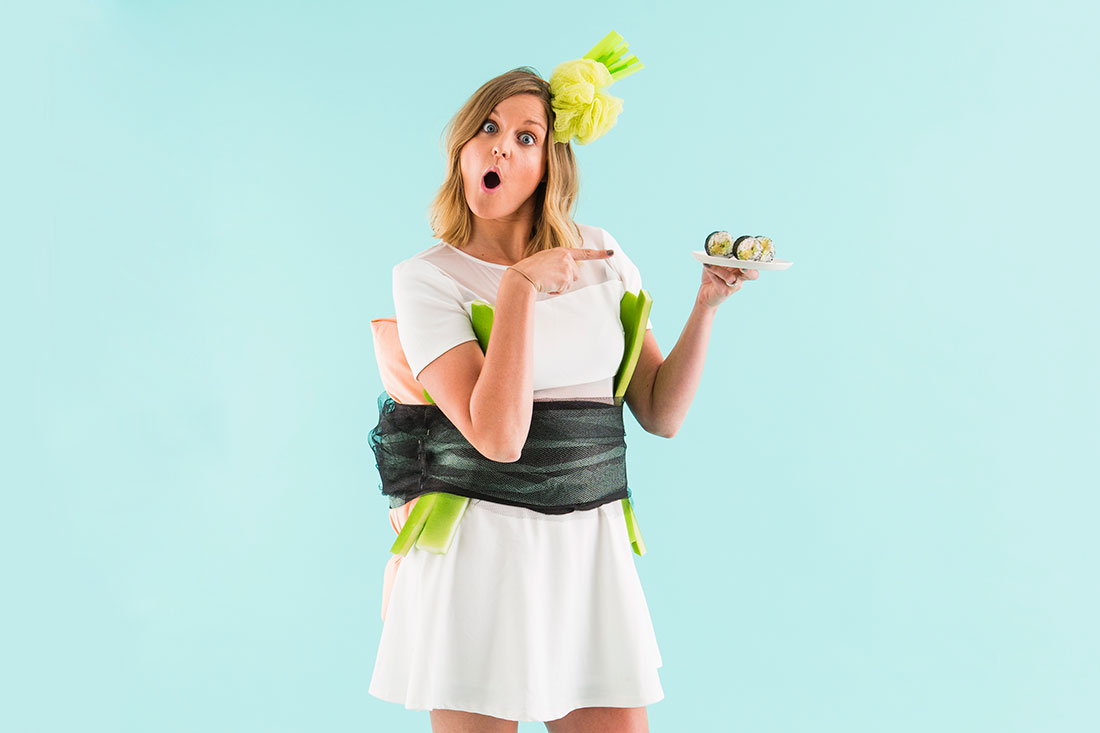 Sushi with some sushi — so meta.
How to make a salmon sushi costume
For the salmon sushi we chose a dark orange fabric for the pillow and left it as a rectangle to mock the salmon slice.
But real talk — how great is this dress? So perfect for this costume.
Go crazy with the hair! Our Beauty Stylist, Misty, gave Ashley fun mini buns that cascaded into a ponytail at the nape of her neck.
How to make a salmon nigiri costume
Someone's got to be the nigiri! Grab a salmon-colored dress from the thrift store and add some white lines to represent the salmon fat. Lay on top of a white body pillow, 'cause it's your rice (duh)!
Salmon nigiri and mini salmon nigiri.
How to make a soy sauce costume
Sushi without soy sauce is a sin. So of course you need a friend to play this role! Grab some yellow felt and trace and cut out the letters for soy sauce. We didn't want to ruin this black dress, so we used fashion tape to adhere the letters, but feel free to hot glue them onto the dress if you want.
Top off the outfit with a bright red wig.
Gang's all here --- time to plate them up.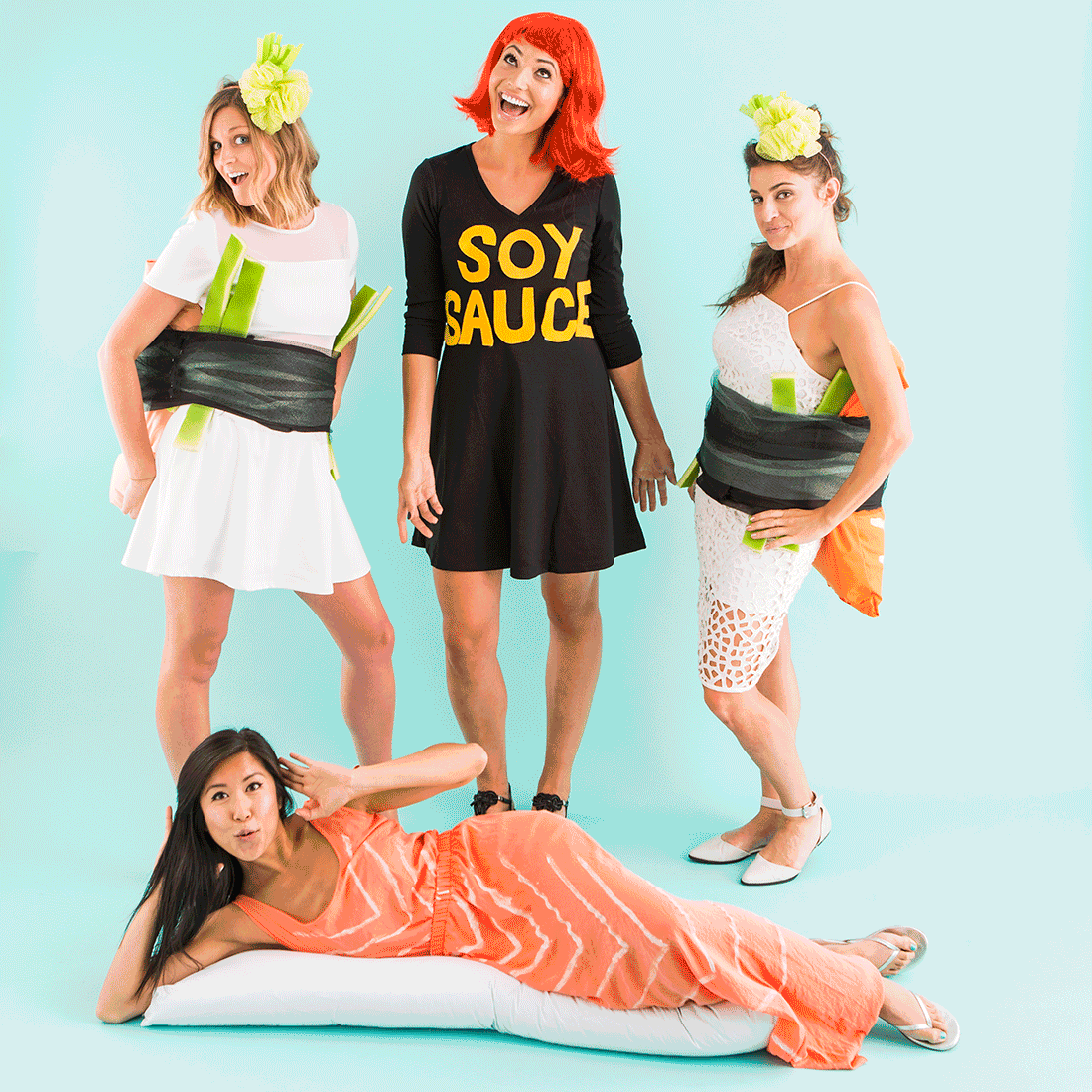 Sushi dance break.
DIY Production and Styling: Kelly Bryden Makeup and Hair: Misty Spinney Photography: Chris Andre Models: Ashley Perlman, Caitlin Silva, Marisa Kumtong, Alicia Goad