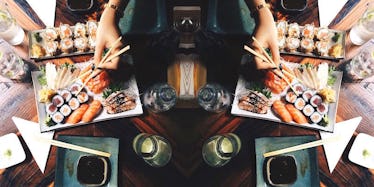 Roll With It: How To Use Your Favorite Sushi As Fashion Inspiration
In the final months of summer, cooking is out of the question. We're already broiling ourselves too much to even think about turning on the oven.
Instead of putting together meals, we turn to the takeout menu. Even in 90-degree weather, sushi's fresh-looking colors and manageable size rolls appeal to us.
So, why not take that mindset out of the kitchen and into the rest of your life?
As far as summer fashion inspiration goes, it doesn't get much more appropriate than the colors spotted in hand rolls. Mint greens, fresh citrus colors and the ever-classic neutrals are in plentiful supply, serving as a reminder that seasonal dressing should be easy.
Rethink your summer wardrobe, and let sushi guide your choices.
While trends are well and good, fashion is about always discovering new sources of inspiration. What better place to start than with your dinner plate?
Wear Your Spicy Tuna Roll To Work
The browns and oranges of a spicy tuna roll get your stomach growling, but should get the gears of your brain grinding as well. Because styles from the 1970s are so popular this season, dark oranges and suedes are in plentiful supply.
To copy the roll's vibe, pair shades of orange and coral with warm brown. The overall look will be more than just neutral, it'll be nuanced.
Take An Avocado Cucumber Roll On A Run
Sure, vegetables aren't usually the priority for lovers of sushi's fishy taste. But, when it comes to avoiding extra pounds during summer, many of us opt for health-friendly options like the avocado cucumber roll.
Since you're on a health kick anyway, take inspiration from the roll's nutritionally friendly contents. Combine shades of green (we love yellow and blue-hued shades) for a power color combination, finishing off with a few black elements for balance.
Spicy Yellowtail Pairs Well With A Casual Lunch
Long lunches are a time to show off style panache with ease, so this orange, black and white ensemble is a no-brainer.
The outfit's color scheme echoes the sesame-dotted exterior of the roll, paying a subtle homage to the tasty snack. Printed pants make the outfit punchy while a crop top displays just a hint of extra skin.
Finish the outfit with a pair of chunky woodblock sandals for a combination of height and statement.
Ace Your Date In Rainbow Roll
The rainbow roll always brightens your plate with its savory combination of salmon, tuna and avocado, so harness that positivity for a blind date.
Pair a loudly patterned skirt with a simple white top, topping the look off with coordinating shoes and bag. Thanks to the outfit's bright colors, you'll never have to doubt your date has a sense of your creative side. And, because you're strapped into comfortable platform sandals, you can walk all night long without pain.
Take On The Office In California Roll Style
California rolls are the Pad Thai of Japanese cuisine: accessible and an easy choice.
Instead of wasting precious daylight poring over your closet, use wardrobe staples to make an office-appropriate outfit that's one part Audrey Hepburn in "Roman Holiday," two parts tropical vacation.
The best part? No one will ever be able to guess that your sartorial inspiration came from food.
Indulge In The Weekend With Eel
Few can resist the pull of eel, cucumber and avocado, so use that magnetism to your advantage.
On the weekends, morning brunch often becomes an afternoon with friends and evening spent bar-hopping –- without time to change.
Perfect the art of party-hopping in a romper that pays homage to black nori, as well as comfortable accessories designed with maximum utility in mind.