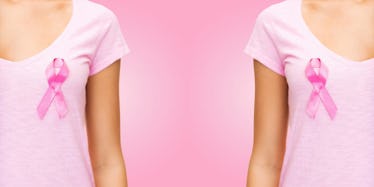 Think Before You Pink: Why Some Breast Cancer Funds Are Questionable
Shutterstock
October symbolizes a variety of things, including the changing of the leaves, leggings and boots, PSLs and an abundance of pink.
If you weren't aware, October is National Breast Cancer Awareness Month.
It's the month when companies slap a pink ribbon on their products, NFL players wear pink socks and hopefully, people are actually donating money to breast cancer research.
Many have referred to this as "pinkwashing," a criticism that indicates the pink ribbon labels on products are more about PR and less about helping to find a cure for breast cancer.
There are several organizations dedicated to breast cancer research that agree with this notion, including Breast Cancer Action.
Breast Cancer Action has an entire section on its website that educates consumers about purchasing pink products, appropriately titled "Think Before You Pink."
It encourages consumers to ask important questions, like, "Does any money from this purchase go to support breast cancer programs?" and, "Does this purchase put you or someone you love at risk for exposure to toxins linked to breast cancer?"
That last question comes into play for one of the companies that jumped on the pinkwashing bandwagon, Mike's Hard Lemonade.
The sugary alcoholic drink that reminds us all of college dorm pregaming is one of the many companies to don the pink packaging in time for Breast Cancer Awareness Month.
It seems cute upon first impression, and since 2009, Mike's Hard Lemonade has reportedly donated $1 million dollars to the Breast Cancer Research Foundation, according to The Daily Beast.
But here's the catch: Many studies have shown alcohol can increase the risk of breast cancer in a variety of ways.
When you take that into consideration, it's clear there's a bit of irony in purchasing an alcoholic beverage that's been dressed up with a pink ribbon.
Sure, a portion of your money might be going toward breast cancer research, but you're also purchasing something that contributes to women getting breast cancer.
The bottom line is many companies are quick to embrace a pink logo for the month of October, and many consumers are also quick to purchase those pink products.
But at the end of the day, simply not enough money is actually being donated from these companies.
Take Laurie Becklund's story for example. Becklund, a former LA Times staff writer, struggled with breast cancer since 1996.
Before her death on February 8, 2015, she wrote an opinion piece entitled "As I Lay Dying."
In this piece, Becklund points the finger at the Susan G. Komen foundation, which is well-known for being one of the largest organizations for breast cancer research.
Becklund says:
Susan G. Komen [...] has raised $2.5 billion over the last 20 years [...] Yet Komen channels only a fraction of those funds into research or systems to help those who are already seriously sick. Most of that money continues to go to a breast cancer 'awareness' campaign that is now painfully out of date.
Becklund asks her friends and family to never don a pink ribbon in her name, believing these campaigns are not helping to bring us any closer to a cure.
It's easy to get jaded and easily frustrated by these stories, especially when some campaigns take on an entirely sexist route under the guise of helping raise breast cancer awareness. ("Help Save Second Base?" Really?)
However, there are ways we can help that go beyond purchasing a Starbucks latte with a pink sleeve.
There are a plethora of organizations dedicated to raising funds for breast cancer research.
American Cancer Society, National Breast Cancer Foundation and The Rose are just the beginning of a long list of organizations to which you can donate.
If you're feeling ambitious, you can always create your own event.
Websites like Give Forward help you to create your own fundraising event and donate the money to the organization of your choice.
With a little research, some patience and a lot of dedication, we can change the way we help raise awareness and support for life-threatening diseases.
And we don't need a specific month or a pink ribbon to do it.