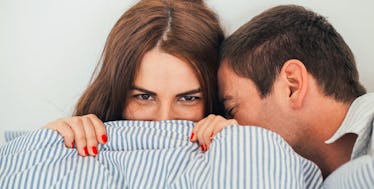 Standing Tall: The Correlation Between Heel Height And Professionalism
Stocksy
In graduate school, there is no shortage of discussion about professionalism. I recently read an assigned article about professionalism that contained a section addressing appropriate office attire.
I found almost all of the guidelines to be archaic, impractical, or flat-out inaccurate. But the point that really burned my biscuits was the advice that heel height should be kept under 2.5 inches. Does the author fear that, in my 4-inch heels, I'm going to bang my head against the glass ceiling?
Dressing professionally is about communicating respect and ability. Your clothes are just another way (often, the first way) of telling the people you work with that you are serious and capable. Does my choice to wear 4-inch heels, rather than 2-inch heels, make me any less respected or seemingly competent?
There is plenty of research out there supporting the conclusion that taller women make more money. Are you literally short-changing yourself in those kitten heels? And what about the value of confidence and the role that "having presence" may play in professional endeavors?
Personally, a great pair of heels lends me an extra bit of snap. I stand a little straighter, feel a little sharper, and enter a room of unfamiliar people without treating my iPhone like a security blanket.
Ultimately, it's a matter of taste. If you go for sky-high shoes, eventually you will run into someone out there who, no matter what else you have on, is going to think you look "too sexy."
And if you wear flats, you will eventually run into someone who is going to think you look underdressed. In either case, you're attire is viewed as unprofessional. Sometimes, you just can't win. But, if you can't win, you've got nothing to lose anyway. So, I say, stand tall.
If you love the heels, but don't want to inadvertently commit career-suicide with a footwear faux pas, there are a few ways to stay on the right side of professionally posh.
Rule out a few.
I love a good wedge (espadrille, cork, etc.) as much as the next girl. Wedges are so easy to walk in, and they achieve maximum height with minimum discomfort. But these babies just beg for a sundress, and it's pretty safe to say they will never be office appropriate.
Rule out a few more.
If you can't walk in them, don't wear them. Any confidence boost that extra inch might add will go down the toilet the minute you weeble-wobble your way into a client meeting. I'm not saying you have to be able to run a marathon in them, but you should be able to do a lap or two of the office without giving a second thought as to what's on your feet.
Find balance.
If the shoe is a sexy shape, like these Jessica Simpson and Gucci D'Orsay Pumps, keep the color traditional. If the color or details do the talking, opt for a more solid, reserved shape, like these suede, J.Crew Etta Pumps.
Tone it down.
If you're wearing a bolder shoe, tone down the rest of your look, either with your outfit choice, styling choice or both. A sleek pencil skirt and a crisp button-down offset a bold shoe without effort. Or, a simple switch from wearing your hair down, to a polished pony or a classic chignon can make a world of difference.
When in doubt, err on the side of conservative.
You can never go wrong with a classic pair of pumps. These timeless J.Crew pumps are just barely over 2.5 inches, but they somehow read as being sexy and conservative, practical and daring, all at the same time.
Top Photo Courtesy: We Heart It