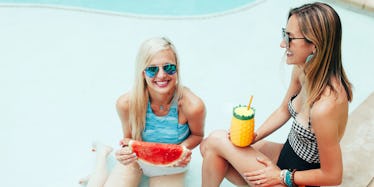 4 Spring Break Vacations That Won't Empty Out Your Checking Account
My eyes are bigger than my bank account. I spend hours on TripAdvisor, drooling over ski resorts in Switzerland. After checking my savings balance, it's fair to say I'm not going to snowboard in Europe anytime soon.
Luckily, I can get a quick fix for my wanderlust without dropping a ton of cash. Taking a luxurious vacation can put a lot of stress on your checking account, so save splurging on fancy hotels with stupidly soft beds for when you're old.
"I don't have enough money to travel," is the excuse I always hear. But, if you get creative with saving money, you can skip town on a budget.
A spring break vacay doesn't even need to be long -- four days and three nights should do it. Flights can be a few hundred dollars, but there are ways to save if you know when to fly and where to book.
Here are four spring break locations you can enjoy for three nights under $500. Flight not included.
For the nature lover: Breckenridge, Colorado
From Breckenridge, there's access to four ski resorts. Hitting the slopes at big resorts gets expensive, around $120-$150 a day, but Arapahoe Basin is ski-able for under $100 a day. Skiing with a view of the majestic Rocky Mountain range is worth every penny.
Don't want to play outside? Meta Yoga offers $18 drop-in classes. Or, try painting pottery at Ready Paint Fire. If all else fails, check out a marijuana dispensary or hit a bar in town.
For lodging, The Bivvi offers the most bang for your precious buck. They have a hot tub with mountain views and beers on tap. Shared rooms start from $30 a night, but there are options if sleeping in a room with strangers isn't your thing. Did I mention the hot tub?
Skip the car rental in Breckenridge. There's a discounted shuttle from the Denver airport to The Bivvi and public transportation in town is free.
For the classic spring break: Myrtle Beach, South Carolina
Catch rays at Grand Strand, a 60-mile stretch of beach that has everything from shell hunting to sunbathing. Hit up cute shops, play arcade games and eat funnel cake.
There's plenty to do in town, too. Practice your swing at one of the 115 golf courses, teeing up for around $40 with last minute deals. If you're in town on a Tuesday or Thursday, New South Brewing Company offers a free tour with tastings.
If riding in a helicopter is on your bucket list, cross it off at Myrtle Beach. Take a ride for $20 if you're lucky with the weather. Then hit up Peaches Corner, the mandatory spot for a hot dog.
Stay at a beachside motel like Castaway Beach Inn for $60 a night. It's got a beachfront pool with a swim up bar. Make your life easier and rent a car for $10 a day, as public transportation is scarce.
For culture and barbecue: Nashville, Tennessee
Craving a live music scene and pulled pork? Head to Nashville for the same price it would cost you to get a three-day pass to NYC's Governors Ball. Besides an abundance of free live music, you can find art exhibits, farmers markets, hikes and excellent barbecue.
Nashville is a music hub, so live performances are hard to miss. See music at The Bluebird Cafe, 3rd and Lindsley and Basement -- the list goes on. If music isn't your scene, watch an action-packed roller derby game at The Fairgrounds for just $10. Sit as close to the sidelines as you can, but be weary of getting whacked.
Satiate barbecue cravings at Arnold's Country Kitchen, a local favorite. While some of the items on the menu change day to day, you'll enjoy real deal southern cuisine whenever you go. Not a barbecue person? Head to Olive and Sinclair Chocolate Co, where they offer tours on Saturdays for $5. You'll get a bunch of chocolate samples and a free hairnet.
Since you'll probably be out and about, shack up in a budget hotel like Econo Lodge for around $50 a night. Renting a car is your best bet for transportation, since Nashville is pretty spread out.
For all things beach and ocean: Playa Del Carmen, Mexico
The beach is a must in Playa Del Carmen. The Snorkel Shop at Puerto Morelos offers several packages with access to some of the most beautiful snorkeling spots. Treat yourself to an underwater safari in Akumal, where you can swim with turtles and spot stingrays. Scuba certified? Check out the diving in Cenotes starting at $80. Get there like a local, hailing a colectivo.
There are plenty of day tours to choose from in Playa Del Carmen. Hop on a tour and go back in time at the Mayan ruins in Tulum, only 45 minutes away.
Another reason to visit Mexico is the food, so stuff your face with top notch tacos at Yo Amo. Most places in Playa Del Carmen take cash, but remember to carry pesos.
Stay in town for around $50 a night, but hostels in the area are even cheaper. For longer stays, renting an apartment is an excellent option.
Of course, there are other costs to factor in when traveling, like flights. Planning ahead and doing research could save you a lot of money.
Don't wait till you're old and have retirement money to travel. If you plan on spring breaking with your squad, splitting costs will make your trip even cheaper. Traveling smart on a budget will take your mind off cost, allowing you to get the most out of your experience.