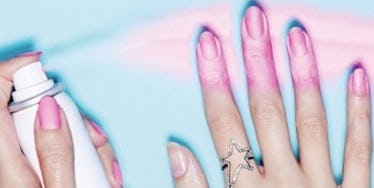 Spray On Nail Polish Is Officially A Thing And It Will Change Your Life
Nail polish company Nails Inc. is launching a product that will change the lives of clumsy girls everywhere: spray-on nail polish.
The spray-on polish, called Paint Can, is formulated to stick to nails but not skin, ensuring a flawless mani every time.
To coat your nails, spray the paint-like lacquer over your fingertips, covering the nail beds, for about 20 seconds. Once the polish dries, wash your hands with water and soap; the excess paint will lift off the skin, leaving behind perfectly-polished pointers (and pinkies).
Paint Can officially launches on November 12 and will retail for about $11 a can — which, considering all the time it'll save you, is a serious bargain.
See it in action below.
Paint Can is going to revolutionize the nail polish game.
Welcome to the future.
Learn more and preorder at Nails Inc.
Citations: Spray Paint Nail Polish Exists And Your Life Will Never Be The Same Again (BuzzFeed)